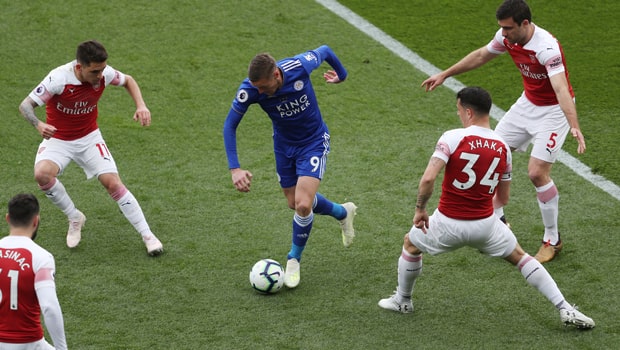 Jamie Vardy merasakan intensitas yang dituntut dari gaya permainan Brendan Rodgers telah membuat perbedaan besar bagi Leicester City sejak ia tiba.
The Foxes mencatat kemenangan 3-0 yang mengesankan atas Arsenal di Stadion King Power, Minggu. Mereka telah mengumpulkan 16 poin dari delapan pertandingan sejak Rodgers menggantikan Claude Puel pada bulan Februari, memungkinkan The Fox untuk menetap di sepuluh besar Liga Premier.
Pencetak gol terbanyak klub sepanjang masa Liga Inggris, yang mencatatkan namanya dengan 18 gol di musim ini, mengikuti sundulan Youri Tielemans dengan dua gol di babak kedua saat sepuluh pemain Gunners terpecah pada hari Minggu.
Berkaca pada permainan, Vardy menyarankan Leicester ingin tidak terpancing dengan gaya permainan Arsenal, sesuatu yang dia rasa mereka diizinkan terjadi di West Ham sebelumnya.
"Kami berpikir bahwa kami ingin keluar," katanya.
"Minggu lalu, sejak awal terutama, kami agak lambat, tetapi di babak kedua kami menunjukkan apa yang kami lakukan. Minggu ini kami ingin melakukan 90 menit penuh dan saya pikir kami telah melakukan itu."
Mantan penyerang Inggris ini jelas menikmati bermain di bawah Rodgers dan dia merasa gaya permainan baru mereka membantu untuk menciptakan peluang.
Juara terpilih Manchester City adalah berikutnya di Stadion Etihad pada hari Senin dan Leicester akan bertandang ke sana merasa mereka dapat mengambil sesuatu dari permainan tersebut.
"Saya pikir intensitas dia membuat kami bermain dan memberi tekanan … kami memenangkan bola jauh lebih tinggi yang memberi kami lebih banyak peluang," tambah Vardy.
"Jika Anda melihat kreativitas yang kami miliki di belakang, kami selalu mencari kartu killer pass. Di ruang ganti kami hanya mengikuti setiap pertandingan.
"Kami akan kembali ke lapangan latihan sekarang dan kami akan menantikan Manchester City berikutnya. Kami akan mencoba dan melakukan kinerja untuk mendapatkan poin sebanyak mungkin."
Leicester 17,00 untuk menang di Man City pada hari Senin dan 8,00 untuk mendapat hasil imbang, dengan favorit tim asuhan Pep Guardiola di 1,17.
Leave a comment