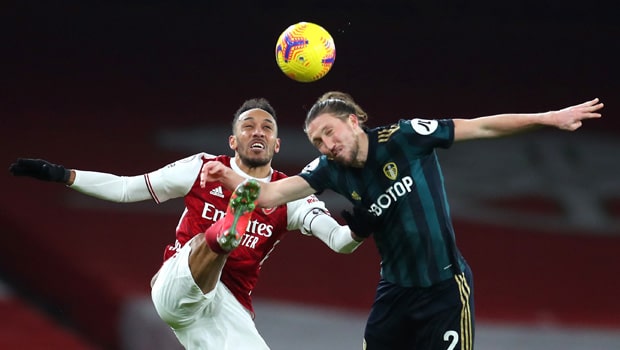 Striker Arsenal asal Gabon Pierre-Emerick Aubameyang mencetak Hattrick saat Arsenal kembali ke jalur kemenangan dengan kemenangan 4-2 atas Leeds United di Stadion Emirates pada Minggu.
The Gunners tidak pernah menang dalam tiga pertandingan sebelum tim asuhan Marcelo Bielsa bertandang ke Emirates Stadium.
Tiga pertandingan terakhir mereka melibatkan kekalahan beruntun dari Aston Villa dan Wolves, termasuk hasil imbang 0-0 melawan Manchester United.
Gol pertama Arsenal dan Aubameyang pada pertandingan itu pada menit ke-13 dan ia menggandakannya hanya 4 menit sebelum jeda dari titik penalti.
Bek sayap Spanyol Hector Bellerin membuat kedudukan menjadi 3-0 di babak pertama. Gol-gol terus mengalir di babak kedua dengan Aubameyang melengkapi hat-tricknya pada menit ke-47.
Leeds United mencetak gol mereka sendiri setelah itu ketika Bek Belanda Pascal Struijk mencetak gol pada menit ke-58 dan Helfer Costa menjadikannya 4-2 sepuluh menit kemudian.
Tidak ada tim yang gagal mencetak gol dalam dua puluh menit terakhir permainan tetapi skornya sudah cukup besar untuk memberi Arsenal kemenangan.
Arsenal tetap di urutan kesepuluh dan Leeds United kesebelas dengan 34 dan 32 poin masing-masing di tabel Liga Premier.
Sementara itu, Manchester United gagal menang di Hawthorns karena mereka bermain imbang 1-1 dengan West Brom untuk membuat selisih poin antara mereka dan Manchester City dengan tujuh poin.
Tim tuan rumah memimpin pada menit ke-2 pertandingan melalui penyerang Senegal Mbaye Diagne tetapi Bruno Fernandes menyamakan kedudukan untuk Setan Merah sebelum jeda.
Namun, kedua belah pihak gagal menemukan pemenang karena kiper West Brom Sam Johnstone sangat brilian dalam mencetak gol.
Sebelumnya pada hari Minggu, Wolves bangkit dari ketertinggalan untuk mengalahkan Southampton 2-1 di Stadion Saint Mary.
Dany Ings telah memberi The Saints keunggulan di babak pertama tetapi tim Nuno Espirito Santo menghindari kekalahan kedua berturut-turut dari tim yang sama dalam tiga hari.
Ruben Neves menyamakan kedudukan di menit ke-53 babak kedua sebelum Pedro Neto mencetak gol kemenangan di menit ke-66.
Ditulis oleh Daniel Ademiju Idowu
Leave a comment