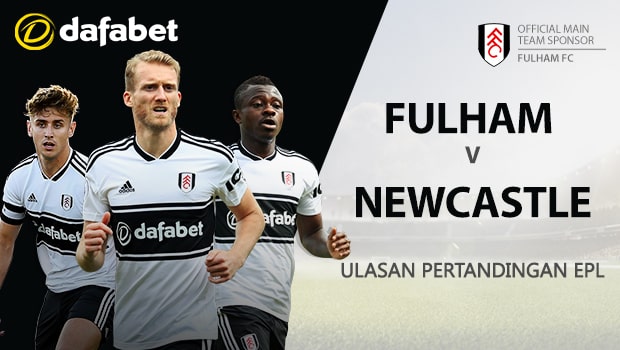 Fulham dan Newcastle United mengakhiri Liga Premier musim ini hari Minggu di Craven Cottage. Fulham mungkin berada di urutan 19 dalam klasemen, tetapi mereka masih berusaha untuk mengakhiri kampanye dengan catatan positif.
Mari kita lihat lebih dekat di mana nilainya dalam pertandingan ini.
Pilihan Dafabet
Team to Win (Waktu Reguler)
• Fulham FC: 2.54
• Gambar: 3.59
• Newcastle United: 2.79
Handycap
• Fulham FC -0.5: 2.21
• Newcastle United + 0,5: 1,75
Total
• Over 2,5: 1,75
• Under 2.5: 2.17
Yang Harus Diperhatikan
Draw: Ada peluang 27,8 persen pertandingan berakhir dengan seri. Ada draw dalam 28 persen dari simuScore, menunjukkan beberapa nilai tambah pada draw, tetapi tidak banyak.
Skor rata-rata setelah 10.000 simulasi adalah 1,46 – 1,3, mendukung Newcastle United.
5 Terakhir: Fulham memiliki tiga kemenangan dan dua kerugian dalam lima keseluruhan terakhir mereka. Newcastle memiliki dua kemenangan, dua kekalahan dan satu imbang dalam 5 terakhir mereka.
Rata-rata terbaru: Dalam 10 pertandingan liga terakhir mereka, Fulham rata-rata 1,2 gol per pertandingan. Newcastle United mencapai 0,7 gol per pertandingan dalam rentang itu.
Head to Head: Kedua belah pihak terakhir bertemu dalam aksi Liga Premier pada 22 Desember 2018 ketika mereka selesai imbang tanpa gol.
Pemimpin yang Diproyeksikan
Miguel Almirón memiliki peluang 36 persen untuk mencetak gol akhir pekan vs Fulham. 2,88 tembakan keseluruhan rata-rata Almirón per sim, 1,2 tembakan ke gawang per dan 0,44 gol per sim.
Aleksandar Mitrovic memiliki peluang 45 persen untuk menjaringkan bola untuk Fulham akhir pekan ini. Mitrovic rata-rata 3,39 tembakan secara keseluruhan per sim, 1,32 tembakan ke gawang per dan 0,60 gol per sim.
Pilihan Analisa
Newcastle untuk menang.
Ada kemungkinan 35,8 persen bahwa Newcastle memenangkan pertandingan ini dalam peraturan. Itu terjadi hampir 40 persen dari simulasi, menunjukkan beberapa nilai tambah pada pilihan. Kemenangan Newcastle adalah pilihan tren panas bintang 3 (dari 4).
Leave a comment