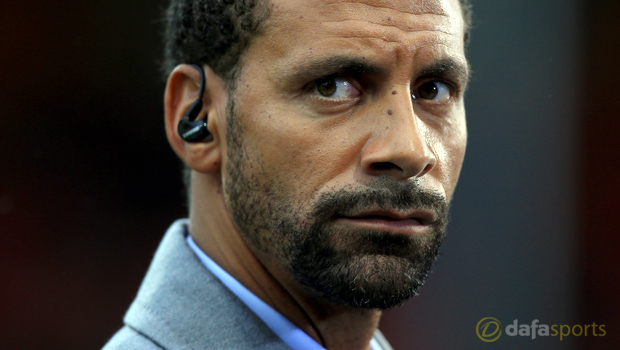 Mantan kapten Inggris Rio Ferdinand telah menolak kemungkinan arus geser untuk memenangkan Euro 2016 di Perancis musim panas ini.
Bek tengah 37 tahun memenangkan 81 caps untuk The Three Lions dan ditampilkan dalam tiga regu Piala Dunia, sebelum mengumumkan pensiun pada 2013 yang telah dihilangkan dari skuad pelatih Roy Hodgson untuk Euro 2012 musim panas sebelumnya.
Sebuah bencana Piala Dunia 2014 di Brasil, di mana Inggris selesai bawah kelompok mereka dengan hanya satu poin dari tiga pertandingan, telah diikuti oleh perubahan dramatis dalam kekayaan untuk pria Hodgson.
Mereka menyelinap melalui kualifikasi untuk Kejuaraan Eropa dengan rekor 100% dari 10 pertandingan mereka dan kemudian telah ditandai sebagai salah satu favorit untuk memenangkan trofi untuk pertama kalinya musim panas ini.
Namun, Ferdinand tidak optimis tentang peluang Inggris dan dia tidak mengharapkan tim untuk maju melampaui perempat final sebuah turnamen besar untuk pertama kalinya sejak Piala Dunia 1990.
Ketika ditanya apakah Inggris bisa menang Euro 2016, ia mengatakan kepada NDTV: "Berdasarkan apa yang saya lihat saya tidak berpikir begitu Jika Anda harus pergi melalui perempat dan semifinal dan final turnamen ini dan berpotensi menang, Anda. sudah harus mengalahkan Prancis, Anda harus mengalahkan Jerman dan Anda harus mengalahkan Spanyol.
"Saya tidak berpikir Inggris akan mampu melakukan itu, mengingat apa yang telah kita lihat. Aku hanya tidak berpikir mereka mampu."
Inggris berada di Grup B bersama Rusia, Slovakia dan negara rumah saingan Wales dan dapat didukung di 1,91 untuk keluar di atas tumpukan, sementara mereka 1.11 untuk lolos dari grup. The Three Lions yang 11,00 untuk memenangkan Euro 2016 langsung.
Leave a comment