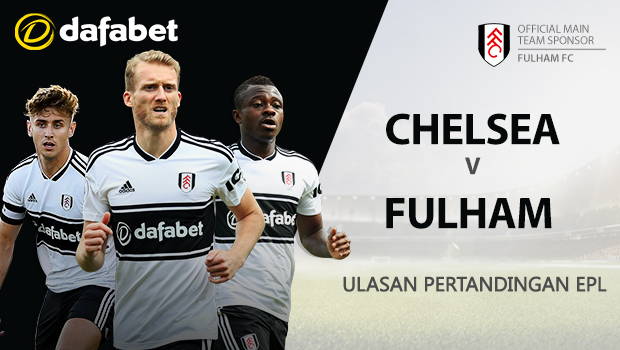 Stamford Bridge adalah tempat dimana Chelsea dan Fulham akan berhadapan di Liga Premier setelah 5 tahun. Chelsea akan mecoba bangkit kembali dari kekalahan 1-3 melawan Tottenham, sementara Fulham mencoba untuk membangun kemenangan, setelah menang 3-2 di kandang Southampton.
Mari kita lihat lebih dekat odds untuk pertandingan ini.
Odds Dafabet
Team yang menang (Waktu Reguler)
• Chelsea FC: 1.18
• Seri: 8.24
• Fulham FC: 16.16
Handicap
• Chelsea -2: 1.79
• Fulham FC +2: 2.16
Total Gol
• Atas 3.5: 1.98
• Bawah 3.5: 1.92
Apa yang Harus Diperhatikan
Bertaruh pada Seri: Odds – 8.24 – mengindikasikan ada 12 persen kemungkinan pertandingan berakhir imbang. Ada hasil imbang dalam hampir 18% dari simulasi AccuScore, menunjukkan beberapa nilai tambah pada undian.
Skor rata-rata setelah 10.000 simulasi adalah 2.6 – 0.85, mendukung Chelsea.
6 Terakhir: Chelsea memiliki 1 kekalahan, 1 imbang dan 4 kemenangan dalam enam pertandingan terakhir mereka secara keseluruhan. Fulham memiliki 1 kemenangan dan lima kekalahan dalam rentang itu.
Perbedaan Bakat: Mari kita jujur – Ada perbedaan bakat yang mencolong antara kedua pihak. Mereka (Chelsea) saat ini berdiri 28 poin di klasemen Liga Primer.
Head to Head: Kedua belah pihak terakhir bertemu dalam aksi Liga Premier pada 2013. Chelsea mencatat kemenangan 3-1 setelah skor 0-0 saat half time.
Projected Leaders
Aleksander Mitrovic diproyeksikan untuk memimpin Fulham dengan peluang 29 hingga 30% untuk mencetak gol. Rata-rata 2,12 tembakan keseluruhan per simulasi, 0,72 tembakan ke gawang dan 0,35 gol tercetak per simulasi.
Untuk Chelsea, kami akan melihat Eden Hazard yang memiliki peluang 59 hingga 59 persen untuk mencetak gol. Hazard memiliki rata-rata 2,98 shot keseluruhan per simulasi, 1,53 tembakan ke gawang dan 0,85 gol tercetak per simulasi.
Pilihan Analis
The UNDER.
Odds – 1,92 – mengindikasikan ada sekitar 52% kemungkinan total skor gabungan tetap di bawah 3,5 gol. Itu terjadi di dekat dengan 55% dari simulasi AccuScore, menunjukkan beberapa nilai tambah pada pilihan. Nilai gabungan rata-rata dalam simulasi AccuScore adalah 3,45 gol.
The UNDER adalah empat bintang (dari empat) tren yang dipilih AccuScore.
Leave a comment