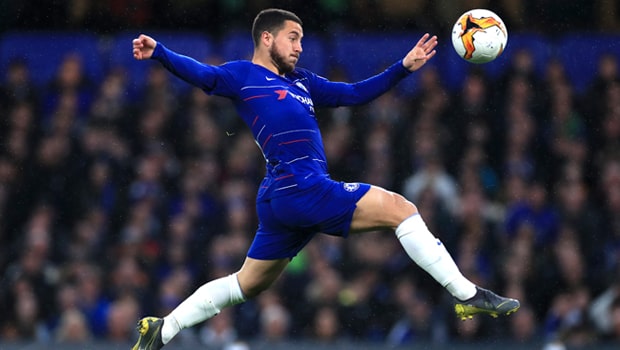 Eden Hazard mengatakan, memenangkan piala Europa League akan menjadi salam perpisahan yang sempurna, apabila dia akan meninggalkan Chelsea musim panas ini.
Pemain andalan Belgia tersebut santer diberitakan akan meninggalkan Stamford Bridge, dengan Real Madrid disebut tertarik mendapatkan servis nya.
The Blues akan menghadapi rival di Premier League Arsenal di Baku, pada lanjutan Europa League minggu ini dan Hazard ingin mengangkat piala tersebut untuk kedua kalinya. Andai ia meninggalkan Chelsea musim panas ini, Playmaker tersebut tahu bahwa itu akan menjadi cara yang sempurna untuk mengakhiri karier nya sebagai pemain Chelsea.
" Ini adalah kompetisi Eropa, jadi untuk saya, untuk klub, untuk manajer, untuk para pendukung, ini adalah sesuatu yang penting," sambung nya.
" Saat anda bermain di final, tidak penting apakah itu adalah Liga Champions, Liga Europa, atau piala liga, anda hanya ingin menang, anda hanya ingin membawa pulang piala dan merayakannya."
"Saat anda bermain di Chelsea, pada awal musim maka orang-orang akan berpikir piala mana yang bisa kita dapatkan pada akhir bulan Mei, jadi ini adalah salah satu yang paling penting."
"Kami kalah pada final piala EFL, jadi pada akhir musim ini adalah piala yang kami inginkan."
"Saya hanya ingin memenangkan piala ini. Tidak penting apakah saya akan mencetak gol atau tidak. Jika ini adalah pertandingan terakhir saya, saya berharap akan memenangkan piala ini. Apakah hal tersebut akan menjadi perpisahan yang sempurna ? Iya."
Chelsea ditempatkan pada odds 2.40 untuk mengalahkan Arsenal, The Gunners pada 3.00 untuk menang sedangkan hasil imbang 3.40.
Leave a comment