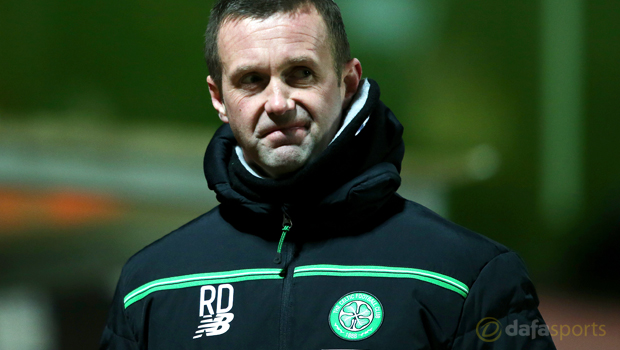 Ronny Deila inginkan timnya untuk menghindari kejutan kerjuaraan ketika mereka bertanding di Ross County di semi-final Piala Liga Skotlandia, Minggu.
The Hoops mencari untuk mencapai treble domestik musim ini, dan mereka akan bergerak selangkah lebih dekat dengan target yang dengan kemenangan di Hampden Park melawan County.
Boys saat ini enam poin dari Aberdeen di puncak klasemen Premiership Skotlandia dan mereka akan mengambil non-liga East Kilbride di babak 16 besar Piala Skotlandia pada bulan Februari, karena mereka tawaran untuk mencapai treble domestik pertama sejak 2000 -2001 kampanye.
The Hoops ditolak menyapu bersih penghargaan domestik musim lalu ketika mereka dikalahkan di semi-final Piala Skotlandia oleh Inverness, dan Deila semua terlalu sadar apa yang bisa terjadi dalam pertandingan satu-off Piala.
Dia mengatakan: "Hal keras tentang cangkir adalah bahwa apa pun bisa terjadi dalam pertandingan satu-off bahwa Anda tidak pernah bisa memprediksi, seperti kartu merah atau keputusan yang bertentangan dengan Anda Itulah yang membuat cangkir begitu menarik dan kadang-kadang begitu sangat. sulit untuk mengalami. "
Norwegia mengakui bahwa kekalahan ke Caley Thistle adalah kekuatan pendorong bagi timnya musim ini, karena mereka tawaran untuk menghindari kejutan lain pada hari Minggu.
Dia menambahkan: "Kehilangan semi-final melawan Inverness tidak mendorong Anda pada Ini adalah sesuatu yang Anda ingin membuat baik lagi tapi Anda akan selalu memiliki saat-saat seperti itu dalam karir sepak bola, pertama sebagai pemain dan sekarang sebagai manajer."
Celtic adalah favorit berat di 1,29 untuk memenangkan pertandingan hari Minggu, sementara County ditawarkan di 8,50 dan imbang dengan harga 5,25.
Leave a comment