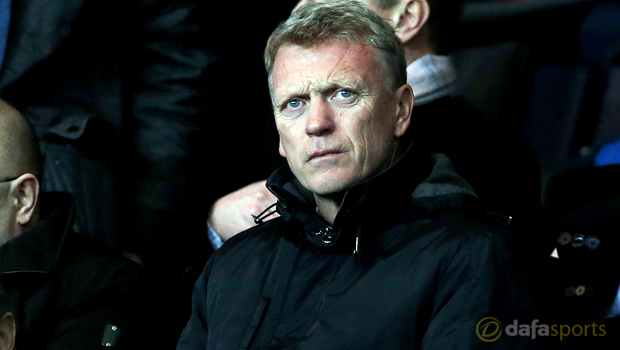 Sunderland are believed to be lining up former Everton and Manchester United manager David Moyes to replace Sam Allardyce.
Kabarnya Sunderland hendak merekrut mantan pelatih Everton dan Manchester United, David Moyes, untuk menggantikan Sam Allardyce.
Pelatih Black Cats yang sekarang diharapkan untuk dikonfirmasi sebagai penerus Roy Hodgson sebagai pelatih Inggris, setelah FA menyatakan dia adalah pilihan unggulan mereka untuk membimbing Three Lions di kampanye kualifikasi Piala Dunia 2018.
Allardyce memimpin Sunderland saat mereka menang 3-0 atas Hartlepool United di laga persahabatan pra-musim, hari Rabu lalu, dan setelahnya dikabarkan ia memberitahukan para pemainnya bahwa dia telah dipilih sebagai pelatih baru Inggris.
Dengan semakin dekatnya musim baru Liga Premier, Sunderland bertekad secepatnya menyudahi masalah ini.
Klub telah meluapkan amarah mereka tentang waktu yang dihabiskan FA untuk memilih pelatih baru, dan mereka telah meyakinkan para fans bahwa mereka kini melakukan semampu mereka, untuk memastikan cepatnya tercapai keputusan akhir.
Pimpinan Black Cats, Ellis Short, diyakini telah menegosiasi paket kompensasi untuk melepaskan Allardyce ke FA.
"Tentunya kami menyadari spekulasi media yang intens, namun saat ini Sam Allardyce masih berstatus pelatih Sunderland," ujarnya di pernyataan klub.
"Kami merasakan kemarahan dan kejengkelan yang sama dengan pendukung kami, dan kami hendak meyakinkan mereka bahwa kami sedang mengusahakan keputusan akhir mengenai masalah ini, demi kepentingan Sunderland AFC."
Sementara itu, Moyes bersemangat untuk kembali melatih setelah meninggalkan tim Spanyol, Real Sociedad, bulan November lalu.
Pelatih asal Skotlandia ini pernah sebelumnya dikabarkan akan bergabung di Stadium of Light, termasuk saat Allardyce menggantikan Dick Advocaat di penghujung waktu, sembilan bulan yang lalu.
Moyes memiliki banyak pengalaman di Liga Premier, setelah menghadirkan stabilitas sejati selama masa 12 tahunnya di Everton, sebelum masa pendeknya yang kurang menghasilkan di Old Trafford, sebagai penerus Sir Alex Ferguson.
Odds Sunderland 3,75 untuk terdegradasi dari Liga Premier di musim depan.
Leave a comment