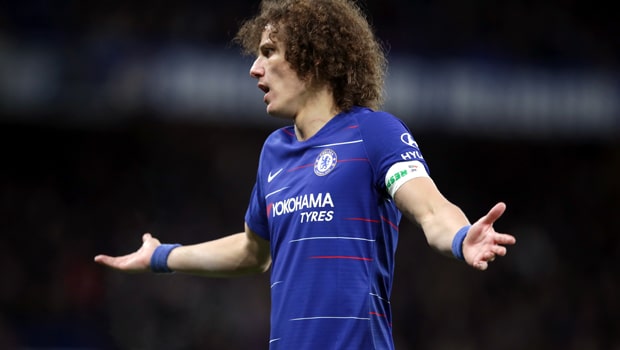 David Luiz mengakui Chelsea tertantang unyuk gelar Liga Premier dan masih menyesuaikan diri untuk berjuang di finis empat besar.
The Blues dinobatkan sebagai juara selama kampanye 2016-17 tetapi hanya bisa menyelesaikan permainan pada posisi kelima di musim yang lalu, yang pada akhirnya berada pada 30 poin penuh di
belakang poin pemenang Manchester City.
Itu menyebabkan Antonio Conte digantikan sebagai manajer oleh Maurizio Sarri, tetapi tekanan sudah ada di Italia, dengan Chelsea duduk di urutan keenam di
klasemen menuju ke tengah pekan yang sangat sibuk.
Chelsea – dihargai dengan odds 2,20 untuk mengklaim finis pada posisi empat besar – akan menempatkan tuan rumah ketiga Tottenham pada hari Rabu untuk pertandingan yang bukan hanya akan menentukan musim mereka tetapi juga masa depan jangka panjang Sarri.
The Blues telah kehilangan kedua Bournemouth dan Manchester City selama beberapa pekan terakhir sementara mereka juga tersingkir dari kedua kompetisi piala domestik.
Bek Brasil Luiz merasa dia akan berubah dari penantang untuk menjadi juara memperjuangkan finis pada empat besar akan menjadi
sulit bagi para pemain Chelsea.
Chelsea adalah tim yang harus berjuang untuk Liga Premier dan sekarang kami melihat itu akan menjadi agak sulit, jadi itu bukan hanya soal mentalitas yang sama. Tergantung bagaimana kita melewati
hal ini, kata Luiz.
Tottenham adalah tim pertama yang mengalahkan Chelsea dalam pertandingan kompetitif di bawah Sarri, mengklaim kemenangan 3-1 di Wembley pada bulan November, meskipun The Blues benar-benar
melakukan balas dendam mereka dengan mengalahkan Spurs di semifinal Piala Carabao bulan lalu bulan lalu melalui adu penalti. .
Leave a comment