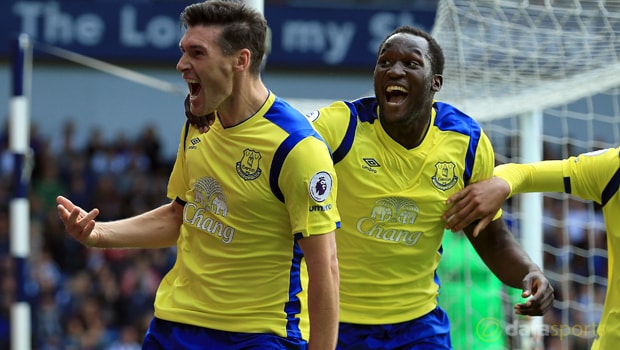 Gareth Barry percaya bahwa Romelu Lukaku, rekan timnya di Everton, dapat mencetak cukup gol yang akan membawa Toffees ke Liga Champions, musim ini.
Pemain asal Belgia, yang berusia 23 tahun ini, mencetak 4 gol hari Sabtu lalu, ketika Everton menaklukkan Bournemouth dalam laga sengit di Merseyside, yang beroleh total 9 gol.
Lukaku kini menjadi pemain Everton dengan angka pencetakan gol Liga Premier tertinggi kedua, sepanjang masa, dengan 59 golnya, hanya kalah satu gol dari Duncan Ferguson.
Walaupun Lukaku sebelumnya telah dikabarkan akan pindah dari Everton, demi peluang untuk bermain di Liga Champions, telah disampaikan Barry ke Lukaku bahwa dia bisa mewujudkan cita-citanya untuk bertanding melawan jagoan Eropa, dengan tidak pindah dari klub.
Dengan upaya Ronald Koeman menggaet pemain berbakat ke Goodison Park, Barry merasa klub mendekati pencapaian kesuksesan besar, dan dia tahu bahwa mempertahankan Lukaku adalah satu bagian penting dari rencana mereka untuk ke depannya.
"There have been a few stories over the last couple of years about Rom wanting to play football at the highest level – and that is the Champions League,"
"Ada berbagai cerita, selama beberapa tahun terakhir, tentang keinginan Rom untuk bermain sepakbola di level tertinggi – yaitu Liga Champions," kata Barry ke situs Everton. "Saya yakin dia akan berbincang dengan para petinggi klub, dan dia berhasrat untuk berada di level itu.
"Dengan perekrutan yang kami usahakan, dan pelatih kami saat ini, itulah yang kami tuju."
Barry, 35, telah bermain dengan banyak striker berkelas atas dalam karirnya, tapi dia merasa bahwa semangat Lukaku untuk menyepak bola ke gawang, melebihi mereka semua.
"Saya pikir saya belum pernah bertemu pemain yang lebih bertekad untuk mencetak gol," tambah Barry.
"Dia bertekad kuat untuk terus berkembang. Dia pencetak gol yang hebat, tapi usahanya tidak sampai situ saja – dia selalu bekerja keras
"Mentalitasnya untuk menerjangkan gol saat ini membawanya jauh ke depan, untuk seseorang yang sangat muda, dan hal itu kerap dilupakan orang lain."
Odds Lukaku 4,75 untuk menjadi topscorer di Liga Premier musim ini.
Leave a comment