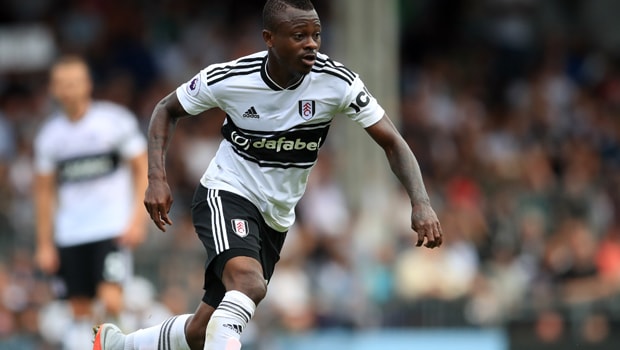 Jean Michael Seri yakin Fulham akan semakin kuat setelah kalah dua pertandingan Premier League pertama mereka.
The Cottagers kalah di kandang oleh Crystal Palace dalam pembukaan mereka sebelum kalah dari Tottenham di Wembley akhir pekan lalu meski menampilkan banyak perlawanan.
Pelatih Fulham, Slavisa Jokanovic, mungkin lega untuk menjauh dari tema derby London akhir pekan ini, dengan Burnley jatuh tempo di Craven Cottage pada Minggu sore.
Seri merasa ada hal positif meskipun kurangnya poin di papan. "Kami kecewa karena kami tidak mengambil poin dari dua pertandingan pembukaan, tetapi saya pikir kami melihat bahwa tim mulai membiasakan diri dengan satu sama lain," katanya.
"Dan itulah, kita akan menjadi lebih baik, kita akan menjadi lebih kuat karena jelas untuk melihat kualitas dalam kelompok pemain ini. Tapi dua pertandingan ini adalah titik referensi yang bagus untuk kita."
Pemain Internasional Pantai Gading merasa Fulham menampilkan diri mereka dengan baik melawan Tottenham, klub dengan rekor kuat baru-baru ini di Liga Premier.
"Di pertandingan kedua ada banyak hal positif yang harus diambil, tentu saja ada area yang harus dikerjakan juga, tapi saya pikir ada banyak elemen bagus untuk kita semua untuk membangun dan saya tidak khawatir sama sekali," tambahnya.
Seri tidak membesar-besarkan fakta bahwa Fulham harus mulai mengambil poin, terutama di Craven Cottage. "Sudah waktunya bagi kita sekarang untuk mulai memenangkan pertandingan," katanya.
"Kami akan bekerja pada aspek yang perlu kami kembangkan dari dua pertandingan terakhir ini.
"Kami bermain di kandang tetapi dalam keadilan kami mendekati setiap pertandingan untuk menang, terlepas dari apakah kami di rumah atau pergi, dan kami akan mencoba yang terbaik untuk menang."
Fulham terpasang pada odds 2,05 untuk menang melawan Burnley pada hari Minggu. The Clarets terpasang pada odds 3,80 dan hasil seri dengan odds 3,40.
Leave a comment