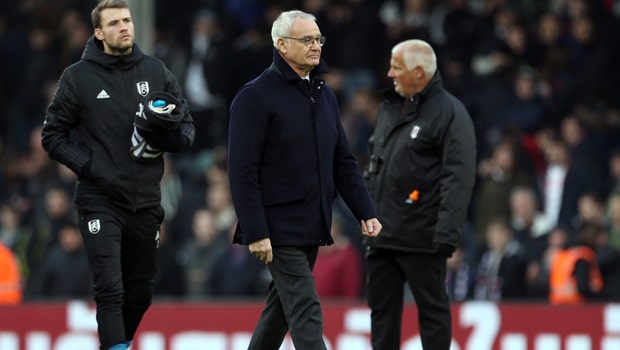 Claudio Ranieri merasa frustrasi setelah timnya membiarkan Wolves kembali ke pertandingan Boxing Day mereka meskipun dia bersikeras ada tanda-tanda perbaikan.
Pertandingan di Craven Cottage berakhir 1-1, dengan Ryan Sessegnon memberi tim tuan rumah memimpin dengan hanya seperempat jam tersisa.
Namun, mereka tidak bisa menahan tiga poin, dengan Romain Saiss meraih gol penyeimbang bagi timi tandang di menit ke-85.
Itu merupakan pukulan bagi Cottagers dan terutama striker Aleksandar Mitrovic, yang melewatkan sejumlah peluang saat pertandingan berakhir dengan jalan buntu.
Hasilnya mengangkat mereka dari puncak Huddersfield, tetapi The Cottagers tetap dalam masalah degradasi, empat poin dari zona aman. The side telah merosot ke bagian bawah tabel Liga Premier setelah serangkaian enam kekalahan beruntun sebelum kedatangan Ranieri.
Karena mantan bos Leicester itu menyatakan mereka memiliki satu kemenangan, tiga imbang dan tiga kekalahan dari tujuh pertandingan mereka, tetapi ia menegaskan ada tanda-tanda kemajuan, tidak terkecuali dalam memasang pertahanan yang bocor.
Pria Italia itu mengatakan: "Saya pikir kami telah banyak berkembang. Saya pikir saya telah menemukan solusi untuk tim ini dengan lima di belakang. Tentu saja, itu bukan dogmatis.
"Tim ini jauh lebih baik, lebih solid dan lebih nyaman. Tentu saja kita membutuhkan sesuatu yang lebih ketika kita berada di bawah, itu tidak begitu tenang, Anda sedikit lebih cemas untuk melakukan sesuatu yang baik.
"Kita harus melanjutkan cara ini. Ini cara yang benar. Ini kedua kalinya kami memainkan bentuk ini dan saya sangat senang karena alasan ini."
Selanjutnya untuk The Cottagers adalah Huddersfield pada hari Sabtu yang diikuti oleh Derby London di Arsenal pada Hari Tahun Baru.
Fulham akan menang 2,10 pada hari Sabtu, dengan Terrier 3,80 dan imbang 3,30.
Leave a comment