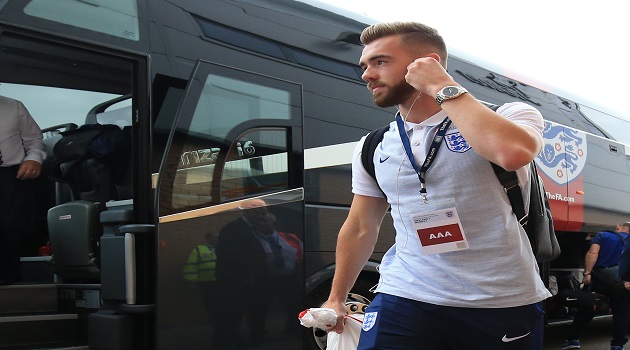 Bek baru Fulham, Calum Chambers menegaskan ia tidak sabar untuk pindah ke klub setelah menyetujui kesepakatan pinjaman musim panjang dari Arsenal.
Pemain berusia 23 tahun tersebut memutuskan untuk meninggalkan The Gunners setelah jatuh ke urutan kekuasaan dalam beberapa tahun terakhir. Chambers tidak dijamin sepak bola tim pertama di bawah pelatih baru Unai Emery tetapi ia masih dikontrak ke klub London utara untuk beberapa tahun ke depan.
Ia berharap untuk membentuk kemitraan yang solid dalam pertahanan dengan mantan rekan setimnya di U21, Alfie Mawson, dan pemain muda itu menegaskan ia tidak sabar untuk bermain di Premier League untuk The Cottagers.
"Saya menyaksikan banyak musim lalu Fulham, saya sangat menyukai cara mereka bermain sepakbola, ada pelatih yang bagus, klub yang hebat, jadi saya sangat bersemangat untuk musim depan," katanya kepada situs resmi klub. "Semua orang dapat melihat bahwa Fulham adalah klub yang suka bermain sepak bola, bermain sepak bola dari belakang, melalui garis.
Itulah gaya sepakbola yang saya suka juga, jadi saya pikir itu cocok untuk saya dan sesuai dengan cara saya bermain. "Chambers hanya akan memiliki beberapa hari untuk mengenal rekan-rekan barunya sebelum pertandingan pembukaan musim melawan Crystal Palace.
Karena keuntungan kandang mereka, Fulham terpasang pada odds 2,38 sebagai favorit untuk pertandingan ini. Hasil seri terpasang pada odds 3,30, sedangkan Palace sebagai underdog pada odds 3,00. Kedua tim menargetkan penampilan menyerang dan mencetak gol, dan odds kemenangan Fulham telah ditingkatkan menjadi 5,00.

Leave a comment