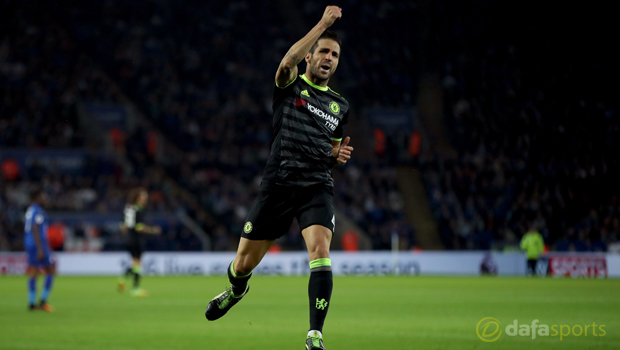 Gelandang Chelsea, Cesc Fabregas, berharap penampilannya saat memenangkan laga EFL melawan Leicester Selasa lalu akan membungkam pengkritiknya.
Mantan bintang Arsenal dan Barcelona ini mengalami awal yang sulit musim ini setelah gagal memulai laga Liga Premier dibawah asuhan Antonio Conte.
Conte melihat pilihan lain di hati sang gelandang sejauh ini, dan menyebabkan spekulasi bahwa Fabregas akan meninggalkan klub dalam bursa transfer selanjutnya. Namun, ia diberi penghargaan sebagai man of the match menyusul kemenangan 4-2 pada babak perpanjangan waktu di Stamford Bridge.
Shinji Okazaki dari Leicester mencetak dua gol pada pertengahan babak pertama, sebelum akhirnya Gary Cahill membalas dengan sebuah gol menjelang babak pertama usai. Disusul gol menakjubkan dari Cesar Azpilicueta sebelum akhirnya Fabregas mencetak dua gol lainnya dalam dua menit, pemain asal Spanyol tersebut berharap hal tersebut dapat menjadi sorotan bagi masa depannya.
"Saya senang dapat bermain dari awal, dan hal luar biasa jika saya dapat membantu tim," ia berkata pada Sky Sport.
"Semoga ini akan menutup mulut beberapa wartawan, beberapa harian, atau siapapun, yang berbicara tidak penting sepanjang waktu , dan lebih fokus pada hal yang penting, kemenangan Chelsea.
"Saya berfokus untuk bermain bagus dan ketika ada kesempatan, saya akan menunjukkan yang bisa saya lakukan, karena saya tahu apa yang bisa saya lakukan dan itu berarti banyak untuk tim ini."
Setelah timnya kalah dari Liverpool terakhir kali di liga, Fabregas berharap untuk tampil awal pada pertandingan timnya melawan Arsenal selanjutnya pada Sabtu malam.
Gunners terpasang pada odds 2,38 untuk menang, sementara hasil seri akan terbayar 3,30, dan Chelsea akan terbayar 2,88 di Dafabet.
Leave a comment