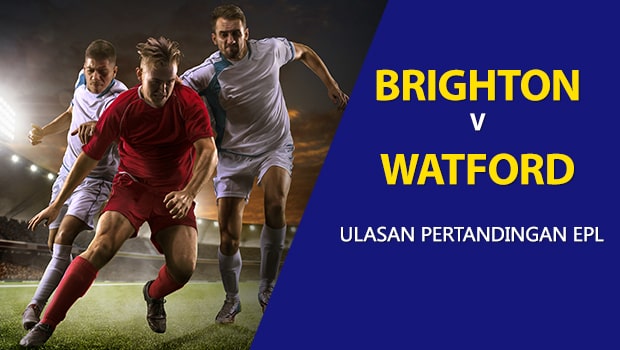 Brighton & Hove bersiap untuk menjadi tuan rumah Watford akhir pekan ini di American Express Community Stadium.
Mari kita lihat lebih dekat di mana nilai untuk pertandingan ini.
Pilihan Dafabet
Tim untuk Menang (Waktu Reguler)
• Brighton & Hove: 2.77
• Draw: 3.26
• Watford: 2.76
Total
• Over 2, 2.5: 1.95
• Under 2, 2.5: 1.95
Yang Harus Diperhatikan
Seri: Ada peluang 30,7 persen pertandingan berakhir seri. Ada undian dalam 30,1 persen dari simuScore, menunjukkan tidak ada nilai tambah pada Seri.
Skor rata-rata setelah 10.000 simulasi adalah 1,36 – 0,82, mendukung Brighton & Hove.
Peluang Besar Terlewatkan: Watford memimpin liga dalam peluang besar yang terlewatkan, menurut situs resmi EPL. Watford memiliki 43 peluang besar yang terlewatkan, dengan Man City No. 2 di belakang mereka dengan 41. Peluang sering diciptakan, tetapi tidak cukup dimanfaatkan.
Head to Head: Kedua tim ini bertemu terakhir pada Agustus 2018 ketika Watford menang, 2-0 setelah gol dari Roberto Pereyra. Watford unggul 1-0 di babak pertama.
Leading the Way: Roberto Pereyra – pada musim ini – rata-rata 0,26 gol per pertandingan. Dia memiliki 6 gol dalam 23 penampilan, dengan lima dari enam gol keluar dari kaki kanannya. Dari 46 tembakannya secara keseluruhan, 16 telah tepat sasaran musim ini.
Pemain Penting
Pereyra memiliki peluang 16 hingga 17 persen untuk mencetak gol untuk Watford. Dia rata-rata mencetak 1,09 keseluruhan per simulasi, 0,40 tembakan ke gawang dan 0,18 gol.
Glenn Murray memiliki peluang 46 hingga 47 persen untuk mencetak gol bagi Brighton. Dia rata-rata 1,44 tembakan secara keseluruhan per simulasi, 0,78 tembakan ke gawang dan 0,61 gol.
Pilihan Analis
Brighton & Hove untuk menang.
Kemenangan Brighton adalah pilihan paling tren AccuScore 3-bintang (dari empat). Mereka memiliki peluang 36 persen untuk memenangkan pertandingan ini, tetapi mereka memenangkan lebih dari 48 persen simulasi AccuScore – menunjukkan sedikit nilai dari bermain di kandang.
Leave a comment