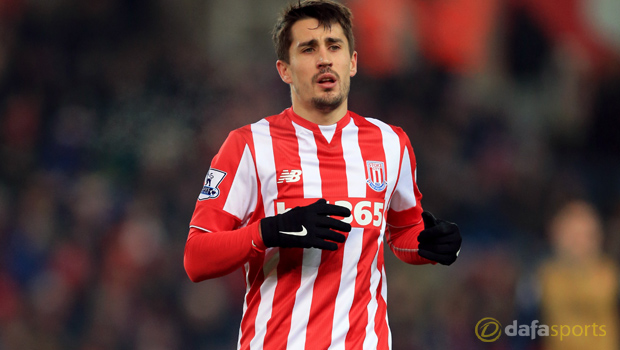 Bojan Krkic telah tetapkan target untuk membuat klub lolos ke Liga Champions dalam tiga musim kedepan.
The Potters saat ini berada pada posisi ketujuh di klasemen Premier League dan hanya beda enam poin dengan posisi empat teratas – dan hanya memiliki 16 pertandingan dari kampanye yang tersisa.
Sisi Mark Hughes hanya kalah empat dari 16 pertandingan terakhir mereka di semua kompetisi dan internasional Spanyol Bojan tidak melihat alasan mengapa klub tidak bisa memenuhi syarat untuk kompetisi klub utama Eropa lebih awal daripada kemudian.
Dia mengatakan "Kami harus jujur Liga Champions harus menjadi target Anda harus menjadi ambisius Lima tahun yang lalu mereka tidak pernah bisa membayangkan di Stadion Britannia mereka akan bermain sepak bola, mengapa dalam tiga tahun tidak bisa kita berada di Liga Champions? "
Pria 25-tahun itu, yang memenangi Liga Champions dua kali selama waktu dengan Barcelona, telah menunjuk contoh Leicester mengapa Stoke harus benar-benar percaya bahwa mereka dapat menggosok bahu dengan elit benua.
Dia menambahkan: "Lihatlah Leicester, mereka memiliki kesempatan untuk memenangkan Liga Premier Anda harus ambisius."
The Potters tidak hanya menikmati kesuksesan di Premier League musim ini, karena mereka juga masih di kedua kompetisi piala domestik dan menghadapi leg kedua semifinal Piala Satu Modal mereka dengan Liverpool pada 26 Januari.
Sebelum itu cup bentrokan pria Hughes 'akan mengambil Leicester di atas penerbangan pada hari Sabtu.
The Potters yang 3,80 untuk mengamankan tiga poin, Fox terbang tinggi yang 2,00 dan menarik yang ditawarkan di 3.40.
Leave a comment