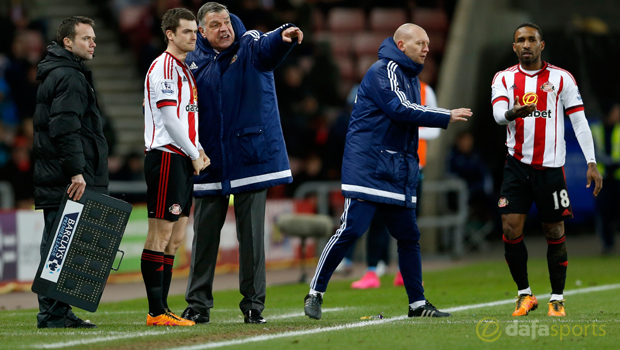 Sam Allardyce berharap untuk melihat peningkatan dari skuadnya saat ia mempersiapkan untuk membawa mereka ke Dubai untuk kamp pelatihan dengan cuaca yang hangat.
The Black Cats, yang dapat didukung di 1.25 yang terdegradasi, saat ini sedang dalam pertempuran degradasi karena mereka duduk di tempat ke-19 dalam klasemen dan empat poin dari zona aman dengan 13 pertandingan tersisa untuk bermain istilah ini.
Allardyce telah berjuang melawan penurunan sejak mengambil alih dari Dick Advocaat pada bulan Oktober 2015, dan ia berharap bahwa perjalanan ke luar negeri dapat memotivasi skuadnya untuk mendapatkan pekerjaan yang dilakukan.
Black Cats akan menghadapi Manchester United di Stadium of Light, Sabtu dan kemudian mereka memiliki dua minggu off sebagai resume Piala FA tanpa mereka pada 20 Februari.
Pemain berusia 61 tahun itu akan menggunakan dua minggu yang ke jet skuad ke Dubai selama beberapa hari sebelum mereka kembali ke laga Premier League melawan mantan klubnya West Ham pada tanggal 27 Februari.
Allardyce merasa bahwa sedikit sinar matahari musim dingin memberikan dorongan besar untuk skuadnya, dan sebelumnya telah merampas West Ham, Blackburn dan Bolton saat ini kampanye.
Bos Sunderland akan berharap bahwa skuad mengambil keuntungan penuh dari perjalanan, menuju ke apa yang bisa membuktikan menjadi bagian yang paling penting dari musim mereka.
Dia mengatakan: "Ya, kita akan pergi untuk istirahat pelatihan di bawah sinar matahari dan mudah-mudahan kita akan mendapatkan peningkatan lain dalam output fisik kita.
"Secara historis, yang selalu terjadi dengan setiap tim yang aku punya."
Leave a comment