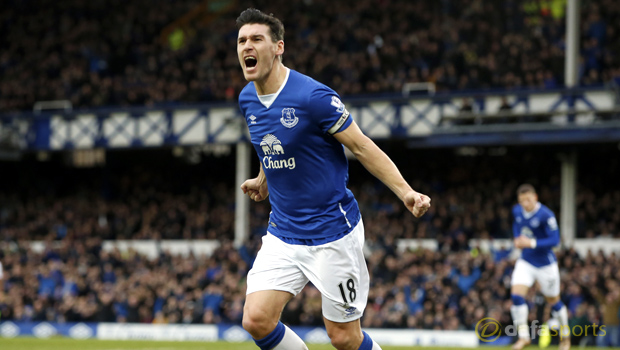 Gareth Barry memberi masukan kepada rekan se-timnya bahwa mereka harus meningkatkan performa mereka jika ingin Everton naik ke posisi atas

Premier League

.
The Blues hanya menang tiga kali di Goodison Park, dengan lima kekalahan dan empat imbang yang dari 12 pertandingan yang mereka lalui hingga saat ini.
Hanya kandidat degradasi Sunderland (1.20 – Degradasi) dan Aston Villa (1,03) yang mendapatkan poin lebih sedikit di kandang, meskipun Toffees telah mencetak lebih banyak gol daripada tim lainnya, dengan kebobolan 22 kali di Goodison Park.
Tujuh kali imbang telah membuat tim Martinez bertahan di tengah klasemen, tapi Barry akui bahwa bentuk formasi mereka tidak cukup baik untuk level Eropa.
Mantan bintang Manchester City itu mengungkapkan, "Hasil yang mereka peroleh masih belum sepenuhnya mereka dan formasi yang mereka gunakan masih jauh dari formasi yang seharusnya digunakan."
"Kami tidak menggunakan Goodison Park seperti bagaimana itu digunakan. Para pemain sadar fans frustrasi tapi itu adalah memang tanggung jawab kami dalam permainan. Tim yang melakukan itu dengan datang kesini dan tim sadar bahwa Everton memang akan membuat fans nya frustasi."
"Hal itu memang tergantung kami dan kembali ke sesuatu di mana kita memang sulit untuk mengalahkan di sini, tanpa menghilangkan cara menyerang kami, dan itu sangatlah baik."
Everton akan bermain di Piala Satu Modal tengah pekan dan kemudian melakukan perjalanan ke Carlisle di babak keempat Piala FA, Minggu.
The Blues terbayar di 1,40 untuk mengalahkan Cumbrians (7,00) sementara hasil imbang adalah sebesar 4,75.
Leave a comment