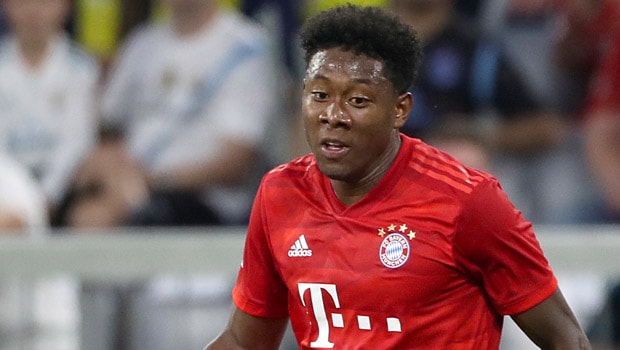 Bek Bayern Munich Austria David Alaba telah menjadi subjek rumor transfer memiliki laporan menghubungkan bek kiri dengan pindah ke Spanyol.
Bek kelas tinggi yang menjadi kapten tim nasional Austria telah berada di Allianz Arena sepanjang karirnya dan mungkin meninggalkan Juara Bundesliga Jerman saat ia memasuki tahun terakhir kontraknya dengan mereka.
Raksasa La Liga Spanyol, Real Madrid dan Barcelona, keduanya waspada untuk menandatangani kapten tim Nasional Austria karena Bayern Munich mungkin terpaksa menjual bek kelas tinggi jika pembicaraan perpanjangan kontrak gagal menghasilkan hasil positif.
Namun, laporan itu mengatakan bahwa duo El Clasico bukan tim kelas dunia yang mengamati situasi dengan cermat karena mantannya, pelatih Pep Guardiola, dikatakan tertarik untuk membawanya ke stadion Etihad juga.
Orang Spanyol telah melatih Bayern Munich selama tiga tahun dari 2013 hingga 2016 memenangkan Bundesliga sepanjang tinggal di Jerman tetapi gagal meraih Liga Champions UEFA.
Pemain berusia 27 tahun itu tidak surplus untuk kebutuhan, tetapi kehadiran Alphonso Davies telah memberi Bayern peluang kemungkinan membiarkannya pergi jika ia memutuskan.
However, the player is said to be more interested in either the Catalunya side or the Los Blancos rather than joining the Premier League outfit albeit he would have little to no competition at the Etihad as the Citizens have only an injury-prone Benjamin Mendy as the only recognized left-back.
A young Sergio Reguilon when he returns from Sevilla where he has had a loan spell, a veteran Marcelo and Ferland Mendy are the players Alaba will have to contend with at the Santiago Bernabeau.
Meanwhile, the competition is quite stiff too at the Camp Nou where Jordi Alba and a not impressive Junior Firpo who joined last summer are the left-backs available to Quique Setien.
Leave a comment