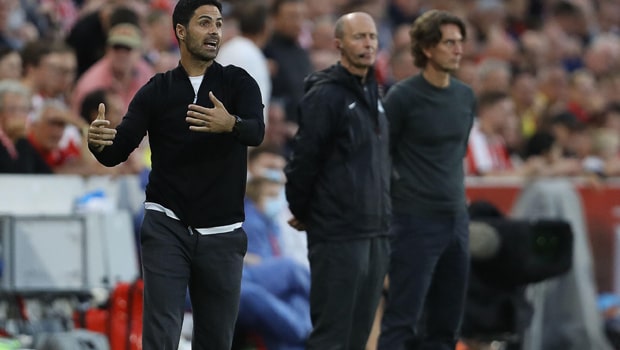 Manajer Arsenal Mike Arteta telah menyatakan bahwa situasi Arsenal saat ini tidak terduga.
The Gunners memulai musim dengan kekalahan 2-0 dari Brentford pekan lalu sebelum kalah 2-0 dari Chelsea dalam derby London pada hari Minggu di stadion Emirates.
Gol Romelu Lakuku dan Reece Jame di babak pertama sudah cukup untuk mengamankan kemenangan bagi the blues di paruh pertama pertandingan.
Pertandingan berakhir dengan Arsenal gagal mencetak gol dalam pertandingan kedua berturut-turut musim ini.
Arteta mengungkapkan kekesalannya saat The Gunners setia usai pertandingan.
"Saya tidak berpikir klub dalam sejarah mereka telah menghadapi sesuatu seperti ini, Kami harus menghadapi tantangan. Liga atau tabel tidak diputuskan pada bulan Agustus. Hal terburuk yang dapat Anda lakukan adalah menyerah. Kami tentu saja tidak. akan melakukan itu." kata Arteta.
Arsenal menghadapi kombinasi kekhawatiran cedera dan infeksi covid yang membuat Pierre Emerick Aubameyang dan Alex Lacazzette absen pada pertandingan pertama musim ini melawan Brentford.
Penandatanganan £50Million dari Brighton Ben White juga melewatkan pertandingan kedua melawan Chelsea pada hari Minggu karena covid.
Thomas Partey, Eddie Nketiah dan Gabriel semuanya cedera untuk tim Mikel Arteta.
Arsenal menandatangani Nuno Tavares dari Benfica, Martin Odeegard dari Real Madrid, Albert Sambi Lokonga dari Anderlecht, Mika Biereth dari Fulham, Aaron Ramsdale dari Sheffield United dan Ben White dari Brighton.
The Gunners akan menghadapi West Brom di Piala EFL pertengahan pekan sebelum bertandang ke stadion Etihad untuk menghadapi Manchester City di liga utama.
Sang juara bertahan telah memenangkan satu dan kalah satu dari dua pertandingan mereka di pertandingan Liga musim ini.
Pasukan Gaurdiola dikalahkan 1-0 oleh Spurs di matchday pertama mereka sebelum mengalahkan tim promosi Sheffield United 5-0 akhir pekan lalu.
Ditulis oleh Daniel Ademiju Idowu
Leave a comment