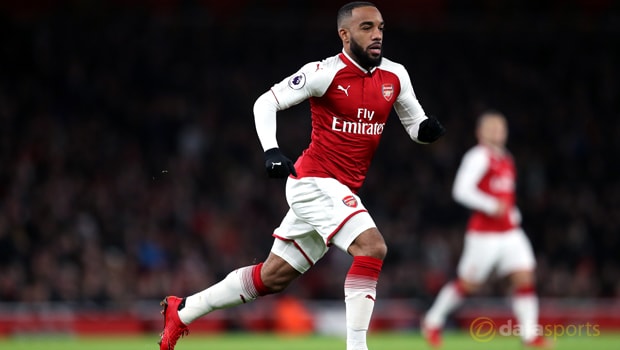 Manajer Arsenal Arsene Wenger mengatakan Alexandre Lacazette membuat kemajuan yang baik setelah operasi dan bisa kembali ke aksi kompetitif menjelang jadwal.
Lacazette, yang tiba dari Lyon musim panas lalu dengan harga sekitar 50 juta poundsterling, telah mengambil beberapa waktu untuk beradaptasi dengan pertandingan Inggris namun masih berhasil mencetak sembilan gol di Liga Premier dari 26 penampilan.
Namun, pemain internasional Prancis, yang membidik sebuah tempat di skuad Piala Dunia Didier Deschamps, baru-baru ini terkena masalah lutut dan diperkirakan ia akan absen selama sekitar enam minggu.
Untungnya, The Gunners memperoleh jasa pemain Borussia Dortmund Pierre-Emerick Aubameyang pada tenggang waktu bulan lalu dan dia menjadi pilihan pertama sejak tiba di Emirates.
Lacazette sejak itu telah menjalani operasi yang sukses dalam upaya memperbaiki masalah lutut dan Wenger, yang baru-baru ini bersumpah untuk melihat sisa kontraknya, mengatakan tanda pemulihan awal positif.
"Lacazette baik-baik saja," katanya pada sebuah konferensi pers. "Dia bisa berada di depan rencana pemulihan, mungkin tiga setengah minggu, empat minggu, tapi secara keseluruhan dia melakukannya dengan baik."
Lacazette bisa kembali beraksi pada awal April dan mendapat beberapa menit sebelum akhir musim bisa menjadi hal penting bagi peluang Piala Dunia.
Arsenal kembali beraksi pada hari Minggu saat mereka berhadapan dengan Manchester City di final Piala Liga dan The Gunners 5,50 menang dalam 90 menit.
Hasil imbang tersebut dibanderol dengan harga 4,33 saat Citizens, yang mengalami kekalahan mengejutkan 1-0 pada Wigan terakhir kali, adalah 1,60 favorit.
Leave a comment