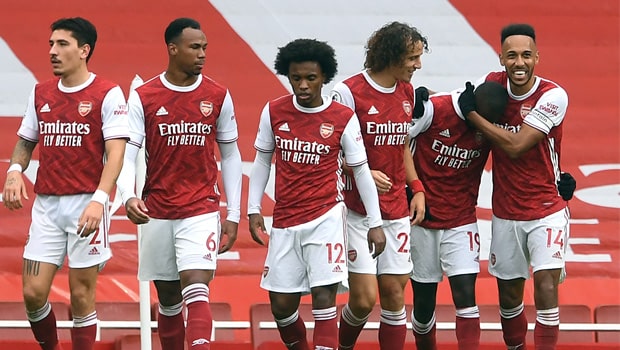 Arsenal memulai kampanye Liga Eropa UEFA 2020-2021 mereka dengan kemenangan comeback melawan tim Austria Rapid Vienna pada Kamis dengan kemenangan 2-1.
Ini adalah pertama kalinya kedua belah pihak saling berhadapan setelah dikelompokkan dalam Grup B kompetisi bersama tim Norwegia Molde dan tim Irlandia Dundalk.
Setelah babak pertama tanpa gol yang membosankan, babak kedua dimulai dengan tuan rumah memimpin lebih awal setelah restart pada menit ke-51 setelah penjaga gawang Arsenal dari Jerman Bernd Leno melakukan kesalahan saat gelandang Yunani Taxiarchis Fountas mencetak gol.
Namun, bek Arsenal asal Brazil David Luiz menyundul bola pada menit ke-70 sebelum pemain pengganti Pierre-Emerick Aubameyang mencetak gol kemenangan hanya empat menit kemudian.
Pierre-Emerick Aubameyang kini telah mencetak 12 gol dalam 19 penampilan Liga Europa untuk The Gunners.
Gelandang Ghana Thomas Partey, yang bergabung dengan The Gunners dari Atletico Madrid pada hari batas waktu transfer, melakukan start pertamanya untuk klub pada malam itu dan memiliki penampilan yang mengesankan untuk tim.
Dengan demikian, ia menjadi orang Ghana pertama yang memulai pertandingan kompetitif untuk Arsenal sejak Emmanuel Frimpong dalam kemenangan 7-5 mereka di Reading pada Oktober 2012.
Kemenangan tersebut berarti Arsenal telah memenangkan pertandingan grup pembukaan mereka di masing-masing dari empat kampanye Liga Europa terakhir dan kekalahan untuk Rapid Vienna adalah kekalahan kandang pertama mereka di fase grup Liga Europa sejak Oktober 2012, mengakhiri 13 pertandingan tak terkalahkan mereka. di kandang sendiri di babak grup kompetisi.
The Gunners sekarang akan mengalihkan fokus ke pertandingan hari Minggu melawan Leicester City pada hari Minggu. The Foxes juga beraksi pada Kamis di Liga Europa melawan tim Ukraina Zorya Luhansk.
Pertandingan Liga Europa Arsenal berikutnya akan dilangsungkan pada tanggal 29 Oktober melawan tim Irlandia, Dundalk di Stadion Emirates.
Ditulis oleh Daniel Ademiju Idowu
Leave a comment