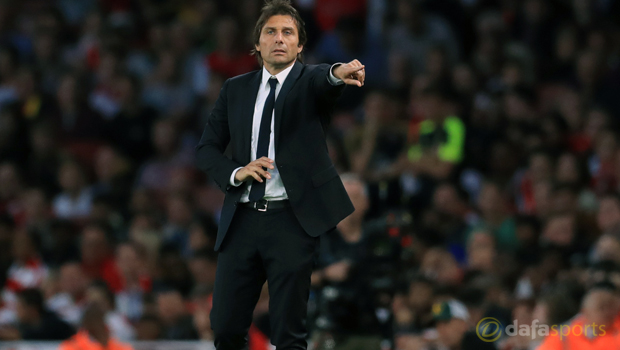 Antonio Conte telah menantang pemain Chelsea untuk bangkit kembali dari penampilan mereka yang mengecewakan, saat kalah 3-0 dari Arsenal hari Sabtu lalu.
Menyusul awal kampanye yang gemilang, The Blues, yang odds-nya 21,00 untuk memenangkan Liga Premier, kini tampaknya mengalami masalah dini dibawah bimbingan pelatih asal Italia ini, dengan meraih satu poin saja dari tiga laga terakhir mereka.
They have clearly been affected by the ankle injury to captain John Terry, with his usual partner Gary Cahill being at fault for Arsenal's opening goal on Saturday.
Mereka jelas terpengaruh oleh cedera pergelangan kaki yang dialami kapten, John Terry, dan rekan utamanya, Gary Cahill, yang disalahkan atas gol pertama Arsenal, hari Sabtu lalu.
Sementara sejumlah sumber mengabarkan bahwa pelatih telah merencanakan perubahan menyeluruh bulan Januari mendatang, sang pelatih sendiri telah menenangkan suasana dan menolak untuk menyalahkan pemain tertentu.
Tanpa bertanding di ranah sepakbola berarti Chelsea kini memiliki waktu seminggu untuk merenungkan laga tandang hari Sabtu depan, ke Hull, dimana odds mereka 1,44 untuk menang, dengan odds hasil seri 4,20, dan Tigers 6,50.
Bukannya panik, Conte percaya timnya harus bekerja keras di arena pelatihan, untuk membuktikan bahwa mereka telah belajar dari penampilan buruk mereka akhir pekan lalu, dan memanfaatkan pengalaman tersebut untuk membantu mereka bangkit kembali, untuk meraih gelar Liga Premier.
Ia berkata: "Penting adanya untuk mengambil pengalaman ini sebagai peluang untuk mengerti bahwa kami ingin segera kembali.
"Berjuang untuk sesuatu yang penting di Inggris, penting untuk berkembang. Kami harus senantiasa berpikir seperti itu, selalu. Kami mengerti – saya duluan, lalu para pemain – bahwa liga ini sangat sulit.
"Kami harus banyak berkembang jika kami ingin terus di atas, dan bukan di tengah-tengah klasemen."
Leave a comment