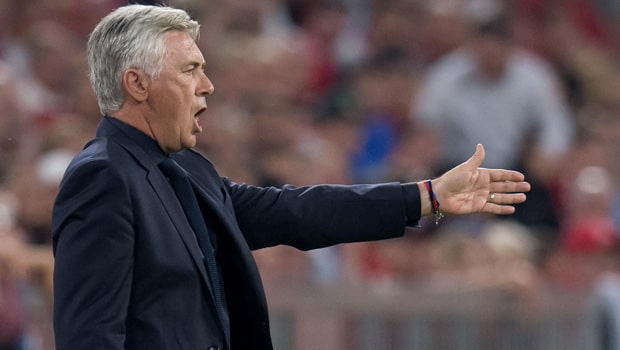 Pelatih Everton Carlo Ancelotti berharap mantan klubnya AC Milan memenangkan Scudetto musim ini.
Milan tampil mengesankan sejak kedatangan Zlatan Ibrahimovic. The Diavolo telah mengumpulkan lebih banyak poin daripada semua tim sejak Januari tahun lalu. Mereka bermain imbang 1-1 melawan Udinese pada Rabu malam.
Ancelotti, yang merupakan mantan pemain dan pelatih Milan mengatakan ia ingin pasukan Stefano Pioli finis di puncak pada 2020-21, tetapi mengakui bahwa itu akan sulit.
Berbicara dengan Sky Sport Italia, Dia mengatakan sang pemuncak klasemen saat ini, Inter sedang dalam kondisi bagus dan melaju kencang.
Setelah menangani Parma, Juventus, Milan, dan Napoli di Serie A, Ancelotti memantau dengan cermat para pemain asuhannya sebelumnya yang telah memulai karir kepelatihan mereka.
Salah satunya adalah Gennaro Gattuso yang saat ini melatih Napoli setelah menggantikannya di klub musim lalu.
Dia lebih lanjut mengungkapkan bahwa dia masih menjaga hubungan baik dengan mereka semua. Sementara menambahkan bahwa Andrea Pirlo dan Gatusso telah menjaga diri mereka dengan baik dalam peran mereka saat ini dan mereka terus berkembang, dia juga mengatakan memiliki hubungan yang sangat dekat dengan manajer Benevento, Fillipo Inzaghi.
Sementara itu, gelandang Milan, Sandro Tonali akan kembali beraksi untuk laga melawan Hellas Verona pada hari Minggu.
Pioli menarik mantan gelandang Brescia dan menggantikannya dengan Soualiho Meite pada babak pertama dalam hasil imbang 1-1 dengan Udinese pada hari Rabu. Manajer mengatakan itu adalah tindakan pencegahan setelah pertandingan.
Kepada DAZN, eks pelatih Fiorentina itu mengatakan, sang pemain merasakan sedikit masalah di bagian fleksor.
Ini berarti pergantian tersebut dilakukan untuk mengurangi resiko cedera yang lebih parah yang dapat dialami oleh pemain berusia 20 tahun itu jika tidak diganti. Karena itu, menurut laporan, dia akan fit untuk pertandingan di Bentegodi akhir pekan ini.
Sejak pindah ke klub San Siro, Tonali telah memainkan 30 pertandingan kompetitif. Namun dia belum mencetak gol pertamanya untuk The Diavolo.
Ditulis oleh Oladipupo Mojeed
Leave a comment