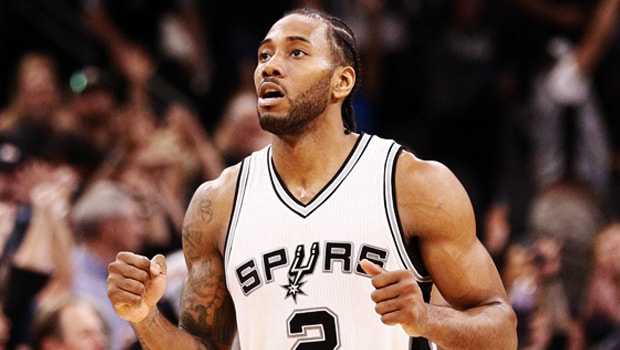 Kawhi Leonard mengatakan bahwa dirinya bertekad untuk tetap bekerja keras untuk membantu San Antonio Spurs agar sukses musim ini.
Pemain berusia 25 tahun ini terus berkembang tahun ini, memegang peran utama dalam membantu tim California ini meraih slot di pertandingan post-season, untuk kampanye ke-20 berturut-turut.
San Antonio telah berhasil meraih lima gelar selama waktu itu, dan Leonard menang MVP Final di kemenangan terakhir mereka di tahun 2014.
Lagi-lagi dia mengincar peran utama dalam persaingan Kejuaraan mereka, dan odds mereka 7,50 untuk merebut gelarnya. Mantan bintang San Diego ini dua kali all-star, dan salah satu dari tiga pemain, selain Michael Jordan dan Hakeem Olajuwon, yang pernah memenangkan penghargaan MVP dan NBA Defensive Player of the Year.
Leonard juga telah mencatat lebih dari 30 poin dalam 20 pertandingan, atau lebih, bagi Spurs dan tampaknya telah meningkat seraya mendekatnya post-season.
The small forward has credited hard work for his success, insisting that he intends to keep on pushing himself in his bid to become one of the best.
Small forward ini mengatakan kesuksesannya berkat kerja keras, dan ia bersikeras dirinya akan terus mendorong dirinya untuk menjadi salah satu pemain terbaik.
"Saya bekerja keras sepanjang musim panas dan sepanjang musim ini, untuk bersiap-siap untuk tantangan yang harus dihadapi," ujanya.
"Kita harus terus maju. Kalau kita bermain jelek, atau kalah 0-10 di quarter, atau apalah, kita harus terus berjuang, dan tidak menyerah kalau ingin jadi yang terbaik."
Pertandingan selanjutnya San Antonio adalah hari Kamis, ketika odds mereka 1,03 untuk mengalahkan tandang, Sacramento Kings, yang terpasang di odds 13,00.
Leave a comment