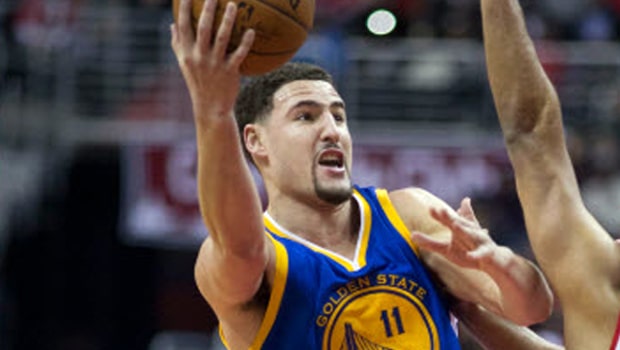 Shooting Guard Golden State Warriors Klay Thompson yakin persaingan antara timnya dan Los Angeles Lakers bisa "hebat" musim ini.
Persaingan antara Lakers dan Golden State sebagian besar tidak ada selama beberapa tahun terakhir tetapi tahun ini, menurut Thompson, intensitas bisa kembali.
Itu terutama dikarenakan kedatangan LeBron James di Lakers setelah ia memutuskan untuk menandatangani kesepakatan empat tahun senilai $ 153,3 juta musim panas ini setelah meninggalkan Cleveland Cavaliers. Pada konferensi pers pembukaannya, James mengakui tim barunya memiliki jalan panjang untuk pergi sebelum mereka dapat bersaing dengan Warriors.
Namun, pertandingan hari Sabtu di Pusat SAP di San Jose menjanjikan untuk memberi Lakers peluang untuk mengesankan.
James terlihat bagus dalam kuning selama tiga pertandingan pra-musim dan Thompson mengharapkan persaingan untuk kembali ke ketingkatan yang baru.
Dia memberi tahu ESPN: "Saya pikir itu sangat keren. Saya pikir Anda tidak akan memperkirakan ketika ia bersama Cavs ketika ia memulai musim rookie-nya, tetapi itu menambahkan banyak minat di liga.
"Kami telah melihatnya bahwa dia selalu berada di puncak East selama Final. Dan game-game itu selalu intens. Saya berharap dia dapat meningkatkan Lakers dengan sangat baik dan mereka jelas memiliki banyak orang yang terbukti sekarang.
"Saya hanya berharap itu menjadi intens. Setiap kali Anda bermain melawan pemain terbaik di dunia, tidak peduli apa olahraga, Anda ingin membandingkan dirimu dengan dia. Jadi kamu bermain sekeras mungkin, itu tidak akan berbeda ketika kami bermain dengan Lakers. "
The Warriors menghadapi Cavaliers di empat final NBA terakhir tetapi ini akan menjadi kali pertama James akan melawan juara bertahan dua kali pada tahap musim ini.
The Warriors adalah 1,53 favorit untuk memenangkan gelar NBA, sementara Lakers adalah 12,00 untuk mengangkat trofi.

Leave a comment