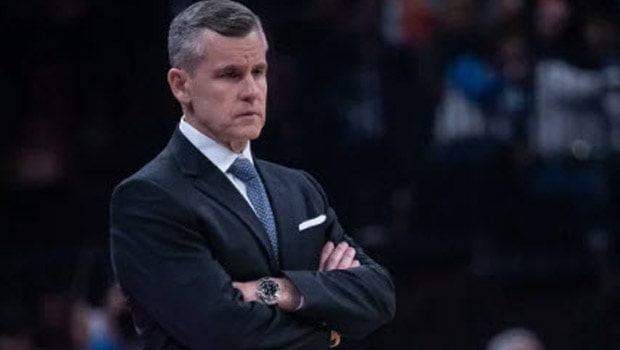 Pelatih dari Oklahoma City Thunder Billy Donovan tidak akan bertanggung jawab atas tim tersebut di musim NBA berikutnya.
Donovan telah bersama Thunder selama lima musim, tetapi pengumuman itu dibuat pada hari Selasa yang mengakhiri rekor impresif 243-157 sebagai pelatih Thunder.
Donovan kini berada di akhir kontraknya tetapi musim terakhirnya tidak berkurang kualitasnya karena ia membawa tim ke babak playoff seperti yang selalu ia lakukan di lima musim sebelumnya.
Dia juga dinobatkan sebagai salah satu finalis pelatih NBA tahun ini. Timnya menahan Houston Rockets untuk tujuh pertandingan di babak pertama playoff.
Dalam pernyataannya, Donovan sangat mengapresiasi para pelatih dan pemainnya di Oklahoma.
"Saya sangat menghormati dan mengagumi para pemain yang saya latih di Oklahoma, dan saya juga ingin berterima kasih kepada para pelatih tempat saya bekerja, yang memberikan waktu dan keahlian yang luar biasa untuk tujuan bersama kami," kata Donovan dalam sebuah pernyataan di NBA.
General Manager Oklahoma City Thunder Sam Presti menyatakan bahwa keputusan kepergian Donovan adalah atas dasar saling menguntungkan.
Sementara itu, NBA telah merilis tim All-Defensive of the season pada hari Rabu dengan MVP NBA yang berkuasa Giannis Antetokounmpo mendapatkan seleksi keduanya di tim utama yang semuanya defensif.
Menurut NBA, pemain Milwaukee Bucks itu mendapat 97 suara dan total 195 poin dari panel global yang terdiri dari 100 penulis dan penyiar olahraga.
Juga Di Tim Utama All-Defensive NBA 2019-20 ada penyerang Los Angeles Lakers Anthony Davis (187 poin; 87 suara Tim Utama), guard Philadelphia 76ers Ben Simmons (185 poin; 88 suara Tim Utama), center Utah Jazz Rudy Gobert ( 180 poin; 85 suara Tim Utama) dan guard Boston Celtics Marcus Smart (152 poin; 57 suara Tim Utama) sesuai pengumuman NBA melalui akun Twitter dan situs webnya.
Leave a comment