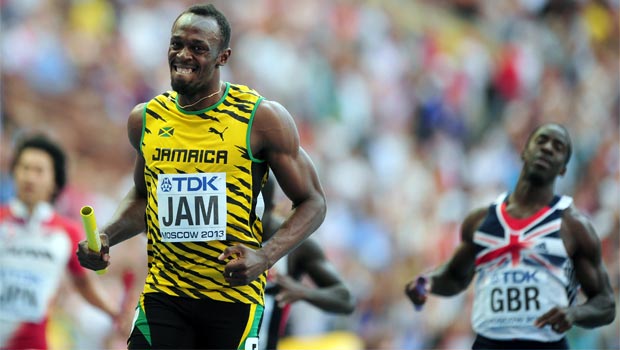 Usain Bolt dan Serena Williams, yang sejauh ini adalah yang terbaik di dunia pada apa yang mereka lakukan, menerima penghargaan dari Akademi Olahraga Amerika Serikat.
Bolt merebut 2012 gelar Athlete of the Year atas prestasi yang luar biasa di trek, sementara Williams menduduki puncak kategori Perempuan.
Keduanya sedang dalam proses memenangkan penghargaan back-to-back, dengan Bolt sekali lagi juga memenangkan gelar pada tahun ini.
Pria asal Jamaika, 27 tahun, World Atlet of the Year pada tahun 2008, 2009, 2011 dan 2012, berhasil mempertahankan gelar 200m nya di IAAF World Championships di Moskow, posting waktu 19,66, sementara ia kembali menyandang mahkota 100m setelah melakukan kesalahan di Daegu pada tahun 2011 dan sekali lagi memimpin tim estafet Jamaika untuk mendapatkan emas.
Manusia tercepat di planet ini, Bolt, memenangkan 10 dari 11 100m ras, dan tak terkalahkan dalam lima balapan lainnya di pacuan lebih 200m.
Adapun superstar tenis Williams, dia hanya terus terjadi, dan dikumpulkan pasangan lain dari Grand Slam tahun ini, courtesy kemenangan di Perancis dan AS Terbuka.
Amerika mungkin memiliki sedikit perkelahian di tangannya untuk mempertahankan penghargaan perempuan saat ini meskipun, sebagai atlet Jamaika Shelly-Ann Fraser Pryce telah mencocokan prestasi Bolt di lintasan, menjadi wanita pertama sejak tahun 1991 untuk memenangkan kedua 100m dan 200m di Kejuaraan Dunia Atletik.
Selain itu, dia juga memimpin tim 400m-relay perempuan untuk keberhasilan medali emas.
Orang dapat diposting secara online sampai tengah malam pada tanggal 20 Desember dan fitur kandidat dari 11 negara dan 12 olahraga yang berbeda.
Beberapa nama terkenal selain Bolt termasuk bintang basket LeBron James, yang memimpin Miami Heat untuk kejuaraan NBA berturut-turut, dan bintang sepak bola Barcelona Lionel Messi, yang mencetak gol terbanyak di liga Eropa musim lalu.
Leave a comment