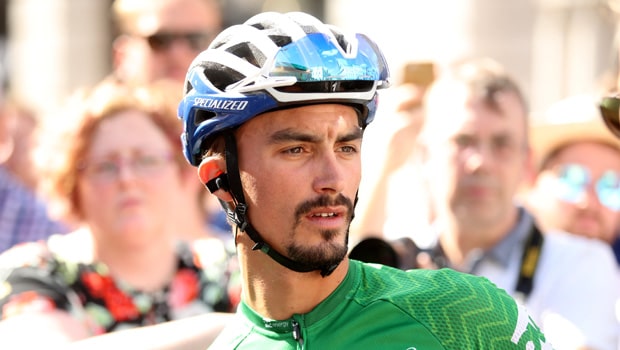 Juara dunia Julian Alaphilippe mengatakan dia akan senang memenangkan Tour de France.
Alaphilippe menunjukkan bahwa itu adalah balapan yang paling ingin dia tambahkan ke kemenangannya. Namun, hal itu tidak menghentikannya untuk menargetkan klasifikasi umum pada 2021.
Alaphilippe, yang bertujuan untuk memenangkan gelar dunia, mendaratkan jersey pelangi di Imola pada bulan September.
Berbicara di acara Bistrot Vélo di Eurosport, Alaphilippe mengakui bahwa kemenangan yang sekarang didambakannya di atas segalanya adalah Tour De France.
Setelah memenangkan Kejuaraan Dunia, Alaphilippe diharapkan ingin menambahkannya ke dalam penghargaannya.
Dia lebih lanjut mengungkapkan bahwa selain Tour de France, dia juga ingin memenangkan Monumen dan Klasik, tetapi prioritasnya adalah Tour.
Alaphilippe finis di posisi kelima di Tour 2019, mengenakan Maillot Jaune selama dua minggu. Setelah gagal membuat penawaran bersama untuk klasifikasi umum pada tahun 2020, setelah memenangkan tahap 2 di Nice dan ditahan kuning selama tiga hari, pria Prancis itu menempati urutan ke-36 secara keseluruhan di Paris.
Berbicara menjelang musim 2021, Alaphilippe mengatakan dia termotivasi dengan tahapan pembukaan yang cocok untuknya.
Namun, dia tidak langsung mengambil risiko karena dia sekarang berpikir untuk mempersiapkan awal musim sementara Tour akan datang sedikit setelahnya.
Alaphilippe menargetkan kembali ke Tour of Flanders setelah mengalami kecelakaan pada debutnya yang mengesankan bulan lalu. Kecelakaan itu, yang membuatnya mengalami patah tulang ganda di tangan kanannya mengakhiri langkah kemenangannya.
Orang Prancis, yang menyatakan bahwa itu adalah balapan yang disukainya, mengatakan kembali ke Tour of Flanders akan menjadi bagian dari tujuannya untuk memulai tahun depan. Dia yakin bisa melakukan blok besar di awal musim bersama semua Classics.
Ditulis oleh Oladipupo Mojeed
Leave a comment