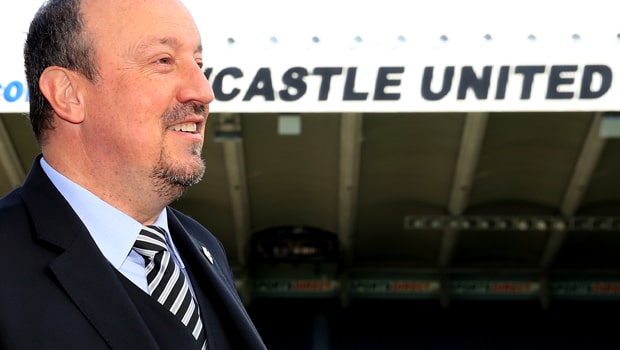 Rafael Benitez percaya satu kemenangan lagi mungkin cukup untuk membuat Newcastle aman musim ini, tetapi tahu itu akan sulit untuk diklaim di Arsenal pada hari Senin.
The Magpies melakukan perjalanan ke ibukota yang berada di urutan ke-14 di Liga Premier setelah menyelinap di belakang Crystal Palace setelah kemenangan mereka pada hari Sabtu.
Newcastle unggul tujuh poin dari zona degradasi setelah peningkatan besar dalam penampilan sejak pergantian tahun.
Dengan pemikiran itu, Benitez memahami bahwa mereka menghadapi tugas berat dalam mencoba mengatasi Arsenal pada hari Senin. The Gunners menang sembilan kali berturut-turut di kandang dan satu-satunya kekalahan mereka di Emirates terjadi pada hari pembukaan melawan Manchester City.
Benitez mengatakan: "Jika Anda melihat apa yang dilakukan Arsenal, mereka melakukannya dengan sangat baik, jadi kami tidak bisa berharap itu akan menjadi pertandingan yang mudah."
Tapi orang Spanyol, yang keluar dari kontrak pada akhir musim, menolak untuk mendekati bentrokan dengan pola pikir negatif dan telah menantang anak buahnya untuk pergi berburu untuk ketiga poin.
Dia menambahkan: "Saya harus tetap tenang dan mengirim pesan yang persis sama: itu hanya satu pertandingan pada satu waktu, yang berikutnya adalah yang paling penting dan mencoba untuk mendapatkan tiga poin dalam yang satu ini.
"Jika kita bisa melakukan apa yang harus kita lakukan dan bisa mendapatkan tiga poin, maka itu tergantung pada yang lain. Tetapi beberapa tim lain telah mendapat beberapa poin, jadi bukan berarti Anda bisa mengatakan, 'Sekarang 37 dijamin', itu tergantung apa yang mereka lakukan.
"Kami sekarang memiliki 35 dan kami baik-baik saja, tetapi kami masih harus menang. Bagi saya, satu pertandingan bisa cukup, tetapi Anda tidak pernah tahu, itu tergantung pada tim lain."
Newcastle dapat didukung pada 8,00 untuk menang pada hari Senin, dengan Arsenal dihargai 1,40 untuk kemenangan, sementara undian tersedia pada 4,75.
Leave a comment