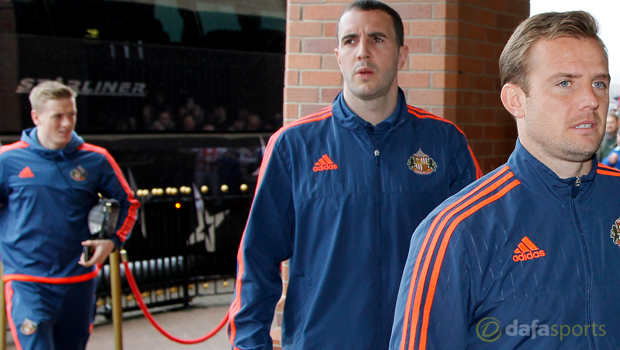 Kapten Sunderland John O'Shea ingin timnya untuk meniru keberhasilan mereka selama jendela transfer Januari, karena mereka tawaran untuk membangun sebuah akhir yang sukses untuk kampanye.
The Black Cats tampak berjuang perjuangan yang berat untuk bertahan di Liga Premier pada pergantian tahun, tetapi mereka hanya kehilangan dua dari akhir 14 pertandingan liga mereka, untuk mengamankan kelangsungan hidup sebelum hari terakhir kampanye.
O'Shea percaya kebangkitan klub itu sebagian besar ke transaksi transfer cerdas bos Sam Allardyce pada Januari, dengan Lamine Kone, Jan Kirchhoff dan wahbi khazri semua memainkan peran kunci saat kedatangan mereka di Stadium of Light pada paruh kedua musim.
Republik Irlandia internasional O'Shea kini berharap bahwa klub North East bisa mendatangkan pemain berkualitas setara selama musim panas, karena mereka tawaran untuk menghindari lain pertempuran musim melawan degradasi.
O'Shea mengatakan: "Kami menambahkan dengan kualitas skuad pada bulan Januari dan mudah-mudahan manajer akan mendapatkan kesempatan untuk melakukannya lagi.
Yang akan meningkatkan kompetisi dan saya telah mengatakan seluruh seluruh karir saya, bahwa kualitas hanya akan lebih baik dengan lebih banyak kompetisi. "
Pemain berusia 35 tahun yakin ini akan menjadi penting bagi klub untuk mendapatkan transaksi transfer mereka dilakukan secepat mungkin selama musim panas, untuk memberi mereka kesempatan terbaik untuk membuat awal yang kuat untuk kampanye baru, itu adalah karena untuk memulai pada tanggal 13 Agustus.
Dia menambahkan: "Saya akan berharap – dan saya yakin manajer akan – bahwa ia dapat membuat dampak awal dan menyelesaikan sesuatu dengan cepat."
Leave a comment