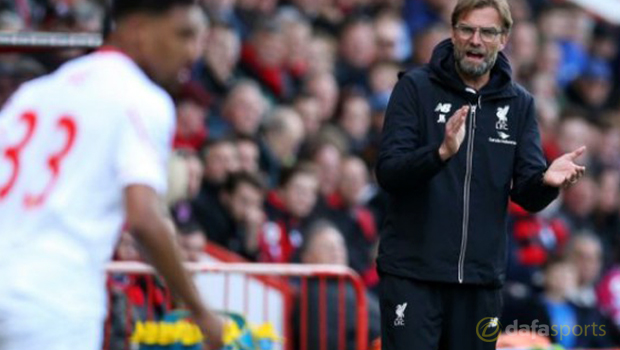 Manajer Liverpool Jurgen Klopp telah mencela laporan keretakan antara dirinya dan pemain sayap Jordan Ibe.
Inggris U-21 Ibe internasional membuat start Premier League pertamanya sejak Januari selama sukses 2-1 hari Minggu melawan Bournemouth pada Vitality Stadium, sementara ia juga belum memulai pertandingan Eropa untuk The Reds sejak sebelum Natal.
Meskipun sekurangnya baru-baru berusia 20 tahun itu tindakan pertama dari tim, Klopp membantah ada keretakan antara pasangan, dan dia bersikeras penting untuk memutar pemain muda dalam skuad.
Klopp kepada wartawan: "Saya mendengar dari suatu tempat bahwa Jordon memiliki beberapa masalah dengan saya atau suatu hal lainnya? Tentu tidak. Hanya beberapa pemain muda bisa datang, dan kadang-kadang mereka berada di skuad, kadang-kadang tidak."
Jerman percaya bahwa Ibe memiliki potensi untuk menjadi pemain top di Merseyside dan dia senang dengan kinerja pemain sayap, sebagaimana Liverpool banyak berubah yang telah mengantongi kemenangan di pantai selatan.
Dia menambahkan: "Dia masih pemain yang brilian, besar, memiliki bakat besar yang sangat baik untuk sepak bola Inggris ia melakukannya dengan baik hari ini dengan lulus untuk gol pertama, dan tendangan lintas untuk yang kedua. saya sangat senang."
Ibe masih bisa memiliki peran besar untuk bermain musim ini, Liverpool masih memiliki enam pertandingan mendatang di Liga Premier, sementara mereka juga lolos ke semi-final Liga Eropa.
The Reds akan menghadapi Villarreal di pertandingan Eropa penting mereka dan mereka tersedia di 3,00 untuk mengamankan kemenangan di leg pertama di El Madrigal pada 28 April, sementara klub Spanyol yang ditawarkan di 2,30 dan imbang dengan harga 3,25.
Leave a comment