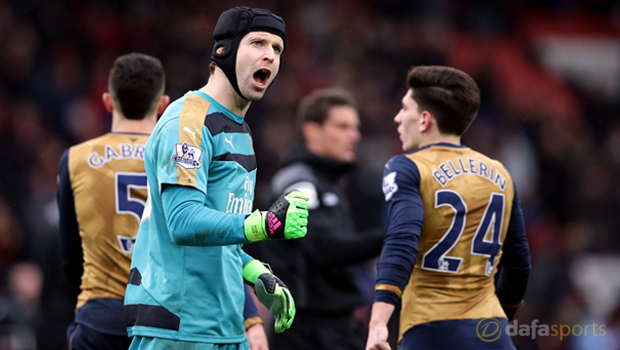 Arsenal Petr Cech mengakui kerugian Minggu ke Manchester United merupakan pukulan besar tapi kiper mengatakan masih ada banyak untuk bermain dalam perebutan gelar Premier League.
The Gunners membuat perjalanan ke Old Trafford, Minggu mencari untuk menutup celah ke meja-toppers Leicester City untuk dua poin setelah menang Foxes '1-0 atas Norwich City, Sabtu.
Namun, meskipun Inggris menjadi terganggu dengan cedera dan tangkas tim muda, laki-laki Arsene Wenger tidak dapat mendapatkan pekerjaan yang dilakukan karena mereka layu di bawah tekanan.
Marcus Rashford, yang mencetak dua gol dalam debut seniornya di Liga Europa pada Kamis, adalah bintang pertunjukan sebagai 18 tahun meraih penjepit dalam kemenangan 3-2 untuk The Red Devils.
Kekalahan itu tidak berubah posisi Arsenal di meja, dengan klub duduk ketiga, tetapi mereka sekarang tiga poin di belakang tempat kedua Tottenham dan lima terpaut Leicester.
Sudah seminggu demoralisasi bagi The Gunners, yang juga kalah 2-0 dari Barcelona di Liga Champions terakhir-16 leg pertama di Emirates, tapi Cech berharap timnya bisa menanggapi dengan cara yang sempurna.
Wenger pria mengambil Swansea pada hari Rabu sebelum menghadapi bentrokan penting dengan Spurs pada hari Sabtu dan mantan Chelsea kiper ingin melihat lebih banyak pertarungan.
"Ini adalah langkah mundur tapi kami harus tetap bekerja," katanya. "Kami memiliki dua pertandingan penting datang minggu ini dan jika kita berhasil memenangkan kedua, meja mungkin terlihat lebih baik lagi."
Arsenal 1.33 favorit untuk mengalahkan Swansea, undian dengan harga 4,75 sedangkan pakaian Welsh dikutip 9.00 karena mereka melihat untuk meredakan kekhawatiran degradasi mereka.
Leave a comment