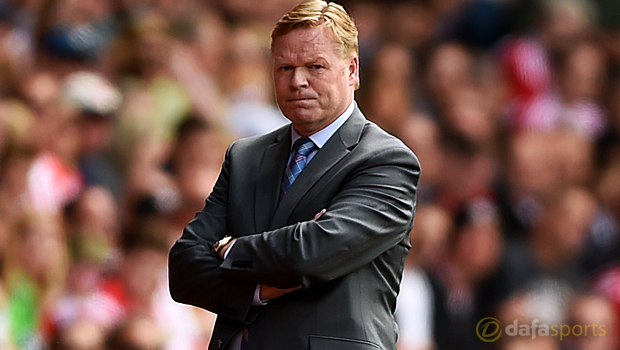 Bos baru Everton, Ronald Koeman menyatakan bahwa ia menikmati prospek memimpin the Toffees untuk menghadapi beberapa pelatih terbaik musim depan.
Setelah rumor berminggu-minggu, pelatih asal Belanda yang keluar dari Southampton tersebut dipastikan bergabung awal bulan ini. Ia diberikan tugas untuk membangkitkan tim berjuluk si Biru dari Merseyside dari masa sulit selama beberapa tahun di bawah Roberto Martinez.
Nampaknya ini akan menjadi kampanye menarik, karena Pep Guardiola dan Jose Mourinho masing-masing bergabung di Manchester City dan Manchester United, sementara itu banyak harapan terhadap musim penuh pertama Jurgen Klopp bertanggung jawab di Liverpool.
Semua manajer tersebut akan berusaha memperkuat pasukannya dalam beberapa pekan kedepan dan kampanye Liga Premier 2016-17 akan menjadi semakin menarik seperti musim terakhir.
Koeman adalah salah satu pemain bertahan yang paling dihormati saat masih bermain, yang pernah bermain bersama Guardiola di Barcelona, dan tentunya ia juga ingin mencapai hal yang sama sebagai manajer.
Pelatih 53 tahun ini mengakui bahwa ia menikmati tantangan baru dan akan memimpin the Toffees untuk bertarung melawan beberapa pelatih terbaik di dunia.
Ujarnya kepada Liverpool Echo: "Sangat bagus memiliki manajer tersebut disini karena di Liga Premier kami berusaha memiliki pemain dan manajer terbaik.
"Mourinho kembali melatih bersama Manchester United dan hal yang bagus mungkin untuk mendatangkan pelatih terbaik dari Jerman nantinya.
"Ini membuat Liga Premier lebih menarik bagi semua orang. Dan menjadi bagiannya sungguh luar biasa."
Everton membuka kampanye nya melawan Tottenham. Pada laga ini, mereka terbayar 2.80 jika menang, dan hasil imbang 3.30 dan kemenangan Spurs 2.38.
Leave a comment