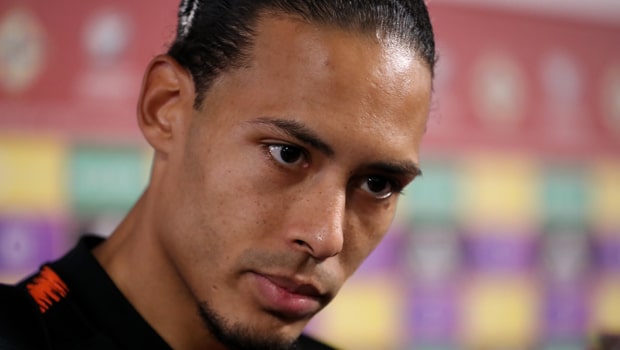 Finalis Liga Internasional UEFA, Belanda akan tanpa bek berpengaruh, dan bintang Liverpool Virgil Van Dijk manarik diri dari kualifikasi Euro 2020 tim melawan Estonia pada hari Selasa.
Van Dijk mengundurkan diri dari skuad Oranjes, dengan alasan dan keadaan pribadi sebagai dasar pengunduran dirinya dari pertandingan kualifikasi Euro 2020 tim nasional.
Dengan demikian Van Dijk akan menjadi pemain nomor lima dari klub Merseyside yang menarik diri dari pertandingan internasional pada jeda internasional November.
Pemain Liverpool lainnya yang telah menarik diri dari tugas internasional November ini termasuk Jordan Henderson karena sakit, Joe Gomez dengan masalah lutut, dan Andy Robertson, yang memilih mundur.
Penyerang Mesir, Mohammed Salah juga menarik diri dari kualifikasi AFCON 2021 Afrika Utara melawan Kenya, yang berakhir 1-1 pada Kamis serta perjalanan Senin ke Komoro.
Keempat pemain kini telah kembali ke markas Kops di Merseyside untuk Menilai dan memulai perawatan sesegera mungkin, dan Van Dijk juga akan bergabung dengan mereka.
Peraih penghargaan UEFA Player of the year tahun ini adalah kapten Belanda saat mengamankan tempat mereka di Kejuaraan Euro 2020 dengan hasil imbang 0-0 di Irlandia Utara pada hari Sabtu meskipun Asosiasi Sepak Bola Belanda gagal memberikan penjelasan lebih lanjut tentang absennya pemain berusia 28 tahun itu.
Hasil pada hari Sabtu berarti Oranje akan bermain dalam kompetisi besar sejak Euro 2012 setelah tim melewatkan kualifikasi untuk Piala Dunia FIFA 2014 di Brasil, Kejuaraan Euro 2016 dan Piala Dunia 2018 di Rusia.
Sementara itu, pengunduran diri Van Dijk akan menjadi perhatian bagi para penggemar di Stadion Anfield jelang pertandingan melawan Crystal Palace di Liga Premier Inggris pada akhir pekan mendatang.
Liverpool masih belum terkalahkan di Liga Premier setelah 12 pertandingan sejauh ini di musim duduk di puncak liga dengan 8 poin dari Leicester City yang berada di urutan kedua.
Game dengan skor tinggi yang diharapkan antara Belanda dan Estonia didukung pada 1,92 untuk menyelesaikan dengan lebih dari 4 gol, sementara kemungkinan hasil di bawah 4 gol dihargai pada 1,90.
Leave a comment