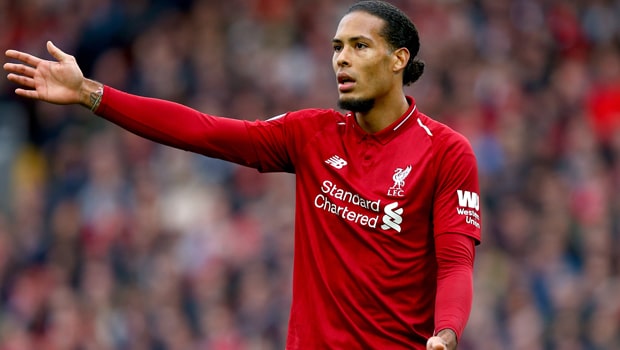 Liverpool telah disegarkan menjelang perjalanan Premier League hari Sabtu ke Huddersfield dengan berita bahwa Virgil van Dijk akan fit untuk bermain.
Bek The Reds telah berjuang atas cedera tulang rusuk dalam kemenangan atas mantan klub Southampton bulan lalu.
Dia tampil dengan hasil imbang tanpa gol dengan Manchester City di Anfield sebelum jeda internasional, mengakui pelanggaran yang dilakukan atas Leroy sane, meskipun tendangan pinalti Riyad Mahrez membentur di mistar gawang atas.
Van Dijk kemudian bermain dan mencetak gol saat Belanda mengalahkan Jerman 3-0 di Nations League pada hari Sabtu di Amsterdam.
Namun, Belanda menegaskan dia akan duduk dibangku candangan, saat Selasa pertandingan persahabatan melawan negara tetangga Belgia sebagai tindakan pencegahan.
Pelatih Ronald Koeman telah mengatakan kepada Liverpool untuk tidak khawatir karena van Dijk akan fit untuk menghadapi The Terriers pada hari Sabtu, kabar ini datang sebagai angin segar untuk Jurgen Klopp dan timnya untuk memperpanjang kemenangan yang tak terkalahkan di musim Liga Premier.
"Staf teknis kami telah berbicara dengan staf teknis mereka," Koeman mengatakan pada konferensi pers.
"Bersama-sama kami memutuskan bahwa dia hanya akan bermain melawan Jerman.
Jika Anda mendapatkan sesuatu dari klub, Anda terkadang harus membalas kembali. Dia akan bermain untuk Liverpool lagi minggu depan. "
Liverpool sudah yakin atas kesiapan Mohamed Salah, yang kembali lebih awal dari tugas internasional dengan Mesir, dan Klopp bisa melakukannya tanpa ada masalah tentang cedera lainnya sebelum perjalanan ke Stadion John Smith.
Striker andalan Salah tertatih-tatih keluar atas kemenangan Mesir 4-1 dari Swaziland pekan lalu dengan "ketegangan otot" dan meskipun ia diizinkan untuk kembali ke Liverpool langsung untuk perawatan, masih harus dilihat apakah ia akan pulih tepat waktu untuk menghadapi Huddersfield.
Odds Liverpool adalah 1,30 untuk menang di Huddersfield dan The Reds dapat didukung di odds 3,10 untuk memenangkan gelar musim ini.
Leave a comment