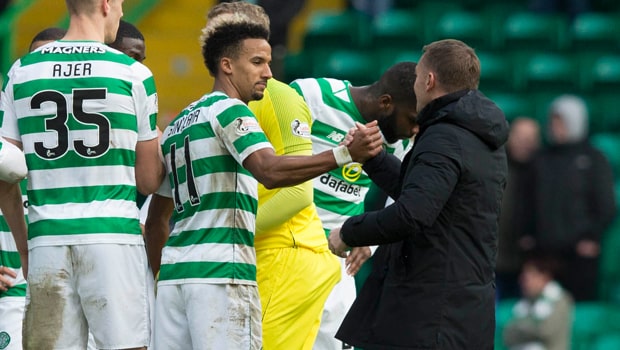 Brendan Rodgers dan Celtic terus menulis ulang buku-buku sejarah sepakbola Skotlandia berkat kemenangan 5-0 mereka di Piala Skotlandia atas St Johnstone di Parkhead.
The Bhoys membukukan tempat mereka di delapan besar piala dengan gaya yang mengesankan, dengan Scott Sinclair menembakkan hat-trick di samping upaya serangan langka dan menakjubkan dari kapten Scott Brown dan upaya dari James Forrest.
Kemenangan atas Saints adalah kemenangan piala Rodgers yang ke 24 bersama klub, melampaui rekor 23 kemenangan yang telah ditetapkan oleh Walter Smith dan pasukan Rangers-nya awal 1990-an.
Itu membuat Celtic tetap di jalurnya untuk mencetak hat-trick treble domestik di bawah Rodgers, yang telah mengklaim semua tujuh trofi domestik tersedia baginya sejak ia menggantikan Ronny Deila. Sejak kalah dari Rangers di Ibrox pada bulan Desember, Celtic telah memenangkan tujuh pertandingan secara bergantian.
Mereka belum kebobolan gol sejauh ini di 2019 dan telah mencetak 21 gol pada rentetan pertandingan tersebut. Bersamaan dengan treble Sinclair, yang mencatatkan golnya menjadi 11 gol dalam 11 pertandingan belakangan ini, kapten klub Brown meroketkan gol cantik jarak jauh, gol pertamanya sejak Februari 2017.
Penandatanganan Oliver Burke di bulan Januari dikarenakan terkesan dengan kecepatan dan kekuatannya dalam memimpin barisan, sementara Timothy Weah dan Odsonne Edouard mampu membuat keluar dan berkontribusi sebagai pemeran tambahan dari bangku cadangan pada sore yang memuaskan bagi Rodgers.
Kalah dari Rangers telah mendorong reaksi yang tajam dari Celtic menurut manajer mereka, yang juga merasa bahwa Burke memiliki potensi signifikan setelah sebelumnya sempat dibekukan di West Brom.
""Oliver Burke memiliki potensi besar. Dia baru saja terbiasa bermain lagi, tetapi saya pikir kemampuan berlarinya benar-benar menakutkan."
Celtic ada pada aksi Europa League pada hari Kamis di kandang menjamu tim La liga Valencia. The Hoops dengan odds 3.40 untuk memenangkan pertandingan, dengan Valencia 2.15 untuk menang, dan hasil imbang dengan odds 3.40.
Leave a comment