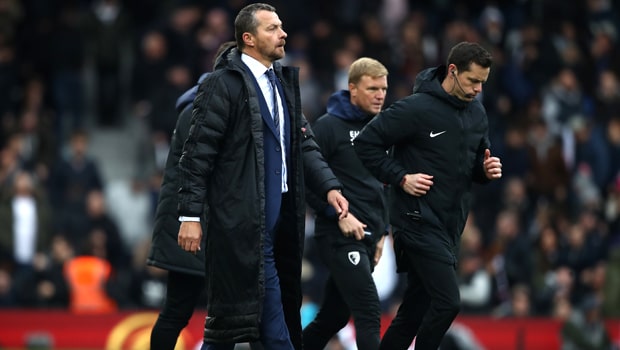 Pelatih Fulham Slavisa Jokanovic bersikeras bahwa dia tidak khawatir akan masa depannya selama dia mencoba untuk membantu tim nya membalikan keadaan pada musim ini.
The Cottagers sudah kalah pada empat pertandingan Premier League terakhir mereka dan saat ini berada pada posisi 18 klasemen.
Tim Jokanovic telah kebobolan 16 gol pada 5 pertandingan terakhir mereka dan mantan bos Watford tersebut mengalami kesulitan untuk menentukan tim terbaiknya.
Isu yang beredar mengatakan bahwa dia akan dipecat dalam beberapa pekan ke depan, hanya beberapa bulan setelah mengantarkan tim nya keluar dari divisi Championship.
Fulham sudah kalah tujuh kali dari 10 pertandingan Premier league, tetapi Jokanovic bersikeras bahwa dia masih terus berjuang dan mendapatkan dukungan dari pemilik klub Shahid Khan.
"Saya hidup pada masa ini, itu adalah pertanyaan yang natural dari pihak anda saat anda tidak memenangkan pertandingan," katanya kepada the Evening Standard.
"Pertanyaan tersebut adalah normal. Benar, aku memikirkan tentang latihan selanjutnya, bagaimana cara terbaik untuk membantu tim saya dan cara terbaik untuk membuat rencana terbaik untuk game selanjutnya. Hanya itulah focus saya.
Saya tidak memikirkan tentang hal lain. "saya memiliki hubungan yang sangat baik dengan pemilik klub akan tetapi itu adalah hubungan secara profesional. Beliau mengharapkan dari pihak kami, sama seperti yang pendukung harapkan, kemenangan.
"secara personal, hubungan kami adalah fantastis, akan tetapi dia tidak membawa saya ke sini hanya karena saya adalah teman yang baik atau sejenis itu, dia membawa saya ke sini untuk memenangkan pertandingan dan itu adalah tantangan saya dan pekerjaan saya."
Fulham akan berhadapan dengan Huddersfield pada 5 November dan kemenangan mereka akan dihargai dengan odds 3.25
Leave a comment