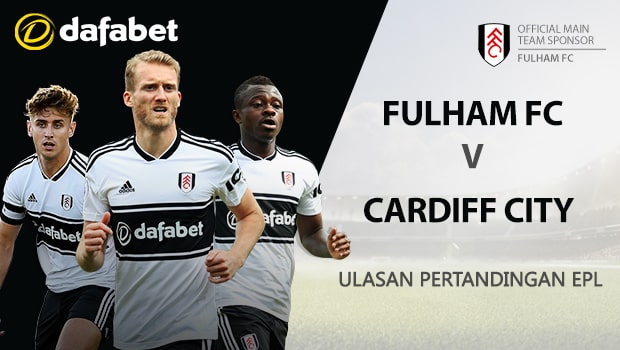 Kami memiliki pertandingan yang menarik di Craven Cottage akhir pekan ini saat Fulham dan Cardiff City saling berhadapan dalam aksi Liga Premier.
Mari kita lihat lebih dekat dimana untuk nilai yang ada di dalam pertandingan ini.
Pilihan Dafabet
Team to Win (Regular Time)
Fulham FC: 2.46
Draw: 3.60
Cardiff City: 2.89
Handicap
Fulham FC -0.5: 2.13
Cardiff City +0.5: 1.81
Total
Over 2.5: 1.77
Under 2.5: 2.14
Yang harus Diperhatikan
Draw: Ada 27,8 persen peluang pertandingan berakhir dengan seri. Ada peluang di 26 persen dari simuScore, menunjukkan tidak ada nilai tambah pada hasil seri.
Skor rata-rata setelah 10.000 simulasi adalah 1.7 – 1.29, lebih menguntungkan Fulham.
6 Pertadingan terakhir: Fulham – menang 1-0 atas Bournemouth – memiliki 2 kemenangan dan 4 kekalahan dalam enam pertandingan terakhir secara keseluruhan. Mereka akan mencari kemenangan liga ketiga berturut-turut mereka di akhir pekan ini. Cardiff – mengalami kekalahan kandang 2-0 melawan Liverpool – mengalami 4 kekalahan dan 2 kemenangan juga dalam 6 pertandingan terakhir mereka.
Membangun Momentum: Aleksandar Mitrovic telah menjadi fenomenal bagi Fulham musim ini. Dia adalah pencetak gol terbanyak klub tahun ini, dengan 11 gol.
Head to Head: Pertemuan pertandingan terakhir Kedua belah pihak di Liga Premier pada 26 Desember 2017 ketika Cardiff City menang, 4-2.
Pemain yang Diproyeksikan
Oumar Niasse memiliki peluang 32,5 persen untuk mencetak gol untuk Cardiff City dengan rata-rata 1,57 tembakan keseluruhan, 0,64 tembakan ke gawang dan 0,39 gol per sim.
Bagi Fulham, kami tidak akan berpaling pada Aleksandar Mitrovic yang memiliki peluang 55 persen untuk mencetak gol dengan rata-rata 4,28 tembakan keseluruhan, 1,6 tembakan ke gawang dan 0,80 gol per sim.
Pilihan Analis
Fulham untuk menang
Kemenangan Fulham adalah pilihan tren panas AccuScore 3-star (dari empat). Ada peluang 40,6 persen Fulham untuk memenangkan pertarungan ini. Mereka menang hampir 46 persen dari simulasi, menunjukkan beberapa nilai samping yang nyata pada pemilihan.
Leave a comment