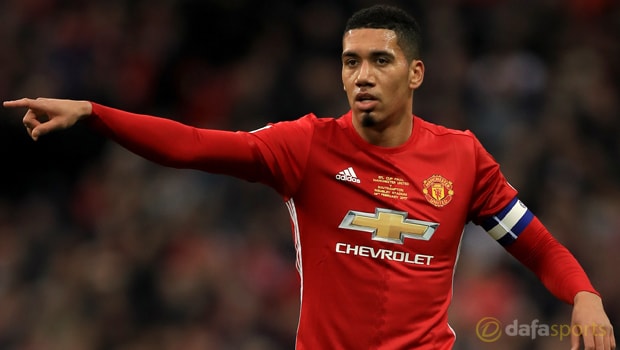 Pemain internasional Inggris, Chris Smalling telah menantang Manchester United untuk  mencatat sejarah musim ini, dan mempertahankan Piala FA, untuk pertama kalinya dalam sejarah klub.
MU telah memenangkan Piala EFL musim ini, mengalahkan Southampton 3-2 di final, dan Red Devils hanya perlu menang sekali lagi, untuk bertandang kedua kalinya di Wembley.
Jose Mourinho's men take on Premier League leaders Chelsea at Stamford Bridge in the FA Cup quarter-finals on Monday and both teams will be confident of progressing.
Skuad Jose Mourinho ini akan melawan juara sementara Liga Premier, Chelsea, di Stamford Bridge pada perempat final Piala FA pada hari Senin, dan kedua tim percaya diri akan melaju.
Kedua tim tak terkalahkan dalam 10 laga di seluruh kompetisi, walaupun Blues memiliki keunggulan mental menjelang pertandingan.
Antonio menang telak 4-0 di kandang, terakhir kali mereka berhadapan buan Oktober lalu, dan tim tuan rumah belum sekalipun kalah dari rival mereka dalam 11 pertandingan terakhir.
Namun, 20 kali juara Inggris ini memiliki sejarah hebat di FA, dengan menjuarai kompetisi ini dengan rekor bersama 12 kali, dan mereka berharap untuk berjaya dengan 13 gelar.
Smalling, yang berkesulitan dengan cederanya musim ini, berharap timnya dapat sukses pada hari Senin, dan tetap berusaha untuk mencatat sejarah.
"Piala FA sulit untuk dipertahankan, dan melihat catatan sebelumnya, tidak banyak yang berhasil melakukannya, dan saya tahu MU belum," ujarnya ke MUTV.
"Jadi, untuk menjadi bagian sejarah dengan mempertahankan Piala itu luar biasa.
"Kita sudah sampai perempat final, dan bisa kita lihat garis finish tidak jauh lagi kalau kami bermain sebagus mungkin."
MU, yang odds-nya 8,00 untuk menjuarai Piala FA musim ini, adalah underdog di odds 4,50 untuk menang, hasil seri terpasang di odds 3,50, sedangkan odds Chelsea 1,91 sebagai unggulan.
Leave a comment