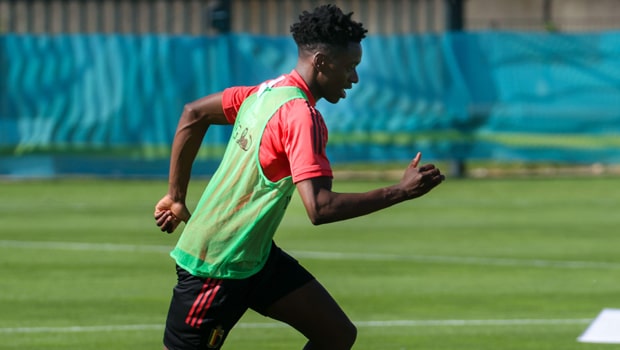 Klub Liga Premier Arsenal telah mengkonfirmasi penandatanganan Gelandang Belgia Albert Sambi Lokonga dari Anderlecht.
Pemain muda Belgia yang beberapa kali menjadi kapten tim utama Anderlecht musim lalu menandatangani kontrak jangka panjang dengan The Gunners.
Namun, biaya transfer untuk anak muda itu tidak diungkapkan. Lokonga memulai debutnya untuk Anderlecht pada tahun 2017 dengan total 78 penampilan sejak saat itu dan mencetak tiga gol.
Sementara itu, manajer Arsenal Mikel Arteta mengungkapkan bahwa klub yakin bahwa pemain tersebut siap untuk tingkat berikutnya dalam perkembangannya terutama setelah belajar di bawah mantan bek Manchester City Vincent Kompany yang melatihnya di tim Belgia.
"Albert adalah pemain yang sangat cerdas yang telah menunjukkan kedewasaan luar biasa, Dia telah dilatih dengan baik oleh Vincent Kompany dan timnya di Anderlecht. Saya mengenal Vincent dengan sangat baik dan dia berbicara sangat tinggi tentang Albert dan dampak positif yang dia berikan pada Anderlecht di musim-musim terakhir ," kata bos Arsenal Mikel Arteta.
Lokonga telah diberi nomor punggung 23 sementara dia akan bergabung dengan skuad setelah dia menyelesaikan peraturan isolasi saat ini.
Selain Lokonga, Arsenal telah mendatangkan bek kiri berusia 21 tahun Nuno Tavares dari Benfica seharga £8 juta musim panas ini dan mereka juga sedang bernegosiasi dengan Brighton and Hove Albion dalam upaya untuk mengontrak bek Inggris Ben White.
The Gunners memiliki awal yang buruk untuk pra-musim mereka setelah kalah 2-1 dari Hibernian dalam pertandingan pramusim pertama mereka sebelum bermain imbang 2-2 melawan Rangers akhir pekan lalu.
Arsenal masih memiliki pertandingan pramusim melawan Inter, Chelsea, dan Tottenham Hotspurs sebelum pertandingan pertama Liga Inggris musim 2021/2022 melawan Bradford.
Sementara itu, Arsenal juga tertarik pada Gelandang Sassuolo Italia Manuel Locatelli yang telah mereka indikasikan bahwa mereka siap membayar 34 juta poundsterling yang diminta oleh tim Seria A.
Ditulis oleh Daniel Ademiju Idowu
Leave a comment