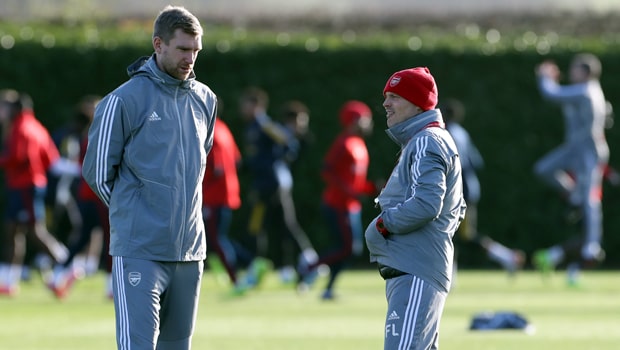 Arsenal pada hari Kamis akan menghadapi Standard Liege di pertandingan grup terakhir grup F, dan meskipun The Gunners lolos ke babak berikutnya, mereka harus memastikan bahwa mereka menang langsung atau menghindari kehilangan selisih lima gol untuk menghindari senjata top di babak 32 dan menangkan grup.
Sisi Freddie Ljungberg pada Senin malam mendapat kemenangan 3-1 atas sesama London, West Ham yang merupakan yang pertama bagi Ljungberg sejak memimpin tim secara sementara dan juga yang pertama dari sembilan pertandingan untuk
sisi Emirates.
Setelah mengkonfirmasi bahwa ia akan menurunkan tim muda, dengan berbagai cedera yang memengaruhi pemain di tim utama, pemain asal Swedia itu menuntut para pemain untuk menunjukkan kepercayaan diri dan memainkan permainan mereka tanpa membuat diri mereka di bawah tekanan yang tidak semestinya.
"Kamu harus santai. Berani menjadi pemain sepakbola, berani. Para pemain saya, terutama di babak kedua melawan West Ham. Mereka melepaskan rem tangan itu dan tiba-tiba mereka memainkan sepakbola yang sangat bagus. "
Ljungberg.
Namun, masalah cedera telah memaksa full-back Kieran Tierney keluar setelah bahu terkilir pada hari Senin melawan West Ham United sementara Granit Xhaka mengalami gegar otak dan tidak akan tersedia untuk kunjungan ke Manchester City pada hari Minggu di Liga Premier Inggris.
Juga, masalah lutut Rob Holding dan masalah hamstring Dani Ceballos telah membuat kedua pemain absen.
Dalam pertandingan grup lainnya antara Frankfurt dan Vitoria SC di Jerman, kemenangan untuk Frankfurt akan membawa tim Jerman mengalahkan Arsenal jika The Gunners gagal mengalahkan Standard Liege, tetapi mereka akan lolos kualifikasi meski kalah sejauh ini. Standard Liege tidak mengalahkan Arsenal , Vitoria sepenuhnya terlepas dari hasil apa pun yang dicatat oleh Portugis.
Arsenal dipatok pada 2,05 untuk mengklaim kemenangan tandang atas Vitoria, sementara Vitoria tersedia pada 3,34 untuk memenangkan Arsenal.
Leave a comment